Aerial mapping with drones is revolutionizing the surveying, construction, and agriculture industries. Drone and satellite technology advances will bring new types of maps and geospatial data. This will create creating new possibilities for businesses and entrepreneurs. For more information see our article "Aerial Mapping With Drones: A Business Perspective"
There are 7 key features you'll want to keep in mind when picking your mapping drone
Flight Time
Camera Performance
Sensor Payload Flexibility
RTK with PPK Compatibility
Fixed Wing vs Multi-rotor
Price
Portability
That's a lot to consider, but we've listed some of your best options.
---
---
Which Survey Drone is Best For You?
This article is for those of you who want to start a business or want to help your company build an in-house drone program. We've focused on drones that provide a high return on investment (ROI) and can help grow your business.
One of our goals when starting the business was to become profitable quickly. This meant we had to generate enough revenue to cover our startup costs. So drone price was a driving factor. Here's an analysis we did to estimate the number of work days required to recover the cost of a drone.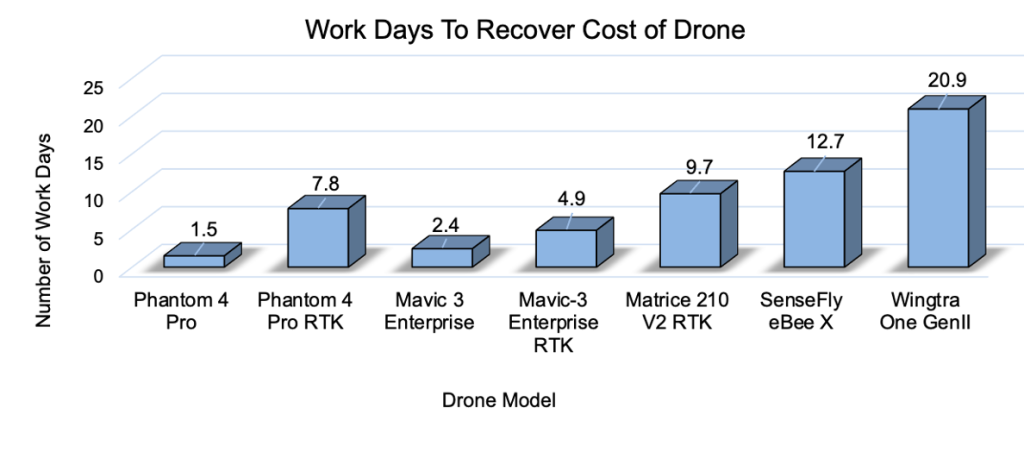 Two things are obvious. First, the phantom 4 Pro V2 is the most cost-effective solution to provide services. Second, the Mavic 3 Enterprise is the most cost-effective RTK solution. For more details, see our article " How To Build A Profitable Drone Business".
If you're starting a small business then this will be your priority. If you're looking to build an in-house program then upfront cost might not be your most important concern. This article provides information to help you make the best purchasing decision.
---
Phantom 4 Pro V2
Best Drone For Tight Budgets
---
| | Low | Medium | High |
| --- | --- | --- | --- |
| Flight Time | xxxxxxxx | | |
| Portability | | xxxxxxxxx | |
| Price | xxxxxxxx | | |
| Camera | xxxxxxxx | | |
| Coverage Area | xxxxxxxx | | |
| Versatility | xxxxxxxx | | |
| | | | |
We use The DJI Phantom 4 Pro V2 in our business. The V2 model has the lowest price point of all drones with mechanical shutters. Setup time is short and operation is easy. My litmus test is whether I can prepare the drone while sitting in my car driver's seat.
fixed camera payload that only supports the 1″ CMOS RGB camera. It is not extensible to thermal or multi-spectral imaging. However, if your market is topographic mapping then this should not be a problem.
The Phantom 4 Pro is a multi-rotor drone so it is limited to less than 0.5 sq-mile coverage (assuming 3 batteries).
DJI also offers an RTK version of the Phantom 4 Pro. But you can't upgrade your existing drone. So decide before you buy, which drone you'll need.
Phantom 4 Pro has been the DJI mapping workhorse for many years. DJI has discontinued production, so they can be a bit hard to find. However, it's proven technology at a low price point. Perfect for a small business startup. For more informatin on starting your business see our article "How To Start A Drone Mapping Business"
| | |
| --- | --- |
| Type | Multi-rotor |
| Flight Time | 30-min |
| Camera | 20MP. Fixed Payload. 1″ CMOS. RGB Only. |
| Size | 465 x 270 x 126 mm |
| Weight | 1.38 kg |
| GPS | Standard or RTK |
---
DJI Mavic 3 Enterprise
Newest Drone Technology
---
| | Low | Medium | High |
| --- | --- | --- | --- |
| Flight Time | | xxxxx | |
| Portability | | | xxxxx |
| Price | | xxxxx | |
| Camera | | xxxxx | |
| Coverage Area | xxxxx | | |
| Versatility | | xxxxx | |
Pros
Cons
+ Most portable mapping drone option
+ RTK upgrade path
– Accessories are expensive

The Mavic 3 Enterprise is the follow-on to the Phantom 4 Pro series. It is foldable and weighs just over two pounds making it the most portable option. The drone has a fixed, dual-camera system. 4/3 CMOS for 20 MP resolution. Also a wide-angle lens for other applications.
It's more expensive than the Phantom but still reasonable. I like the fact that you can purchase the regular model and then upgrade to RTK. This means the drone can grow with your business needs. If you like the Mavic style and you are starting a small business, then this is the drone for you.
Type
Multi-rotor
Max Flight Time
45-min
Camera
4/3″ CMOS, 20 MP
Smaller wide-angle 12MP
Size
465 x 270 x 126 mm
Weight
1.38 kg (2.1lbs)
GPS
Standard upgradeable to RTK
---
DJI Matrice 210 V2 RTK
Most Versatile Mapping Drone
---
| | Low | Medium | High |
| --- | --- | --- | --- |
| Flight Time | | xxxxx | |
| Portability | | xxxxx | |
| Price | | xxxxx | |
| Camera | | | xxxxx |
| Coverage Area | | xxxxx | |
| Versatility | | | xxxxx |
Pros
Cons
+ Multiple camera payloads
+ On-board processing supports PPK
+ Extremely versatile

– Big and heavy.
– Limited flight time
The DJI Matrice 210 V2 features an interchangeable dual-camera system that can be equipped with a variety of cameras. In addition, it can mount an upward-facing camera on top of the drone. This makes it the most versatile drone on the market.
The RTK version supports PPK which reduces the need for ground control points (GCPs). My technical recommendation is to move away from GCPs. They create a much more complex and expensive workflow. You definitely want to get a mapping drone that supports PPK.
The drone has a robust build quality that can withstand harsh conditions. The DJI Matrice 210 RTK is a robust, powerful drone that offers exceptional flight times, range, speed, and accuracy. We currently use the Phantom 4 Pro V2, but as we grow our business this is the next drone model we will purchase.
SPECIFICATIONS
Type
Fixed Wing /Vertical Takeoff Landing (VTOL)
Camera
Zenmuse X4S
Zenmuse X7
Zenmuse XT
Max Flight Time
38 minutes
Size
34.9×34.6×14.9 " (887×880×378 mm) Unfolded
Weight
4.53 kg
GPS
PPK GNSS
---
Wingtra One (Gen 2)
Best VTOL Drone For Mapping
---
| | Low | Medium | High |
| --- | --- | --- | --- |
| Flight Time | | | xxxxx |
| Portability | xxxxx | | |
| Price | | | xxxxx |
| Camera | | | xxxxx |
| Coverage Area | | | xxxxx |
| Versatility | | xxxxx | |
Pros
Cons
+ Multiple payload options for
different mapping scenarios
+ VTOL means no belly landings
+ Blue UAS 2.0 cleared for work
with the US government.
– Expensive, not recommended for
smaller operators
– Parts availability may be an issue
– Only support single sensor payload
– Size and portability
The Wingtra One (Gen 2) is a professional-grade fixed-wing drone vertical take-off and landing (VTOL) drone. Fixed-wing drones can cover greater distances, have longer flight times, have greater flight stability, and can handle harsh weather conditions better than multi-rotor drones. VTOL drones take off and land vertically, eliminating the need for a runway or launch pad.
We estimated the job cost reduction for fixed-wing versus multi-rotor. We compared the mapping job cost for SenseFly and Matrice 210 V2 based on 55-minute and 35-minute operational flight times. The analysis assumes a 2-person mapping team costing $250 per hour, and flight speeds are based on FOV for the SONY Alpha 6100 and the Aerial X cameras. For large-area mapping, the fixed-wing drone reduces cost by roughly 55%.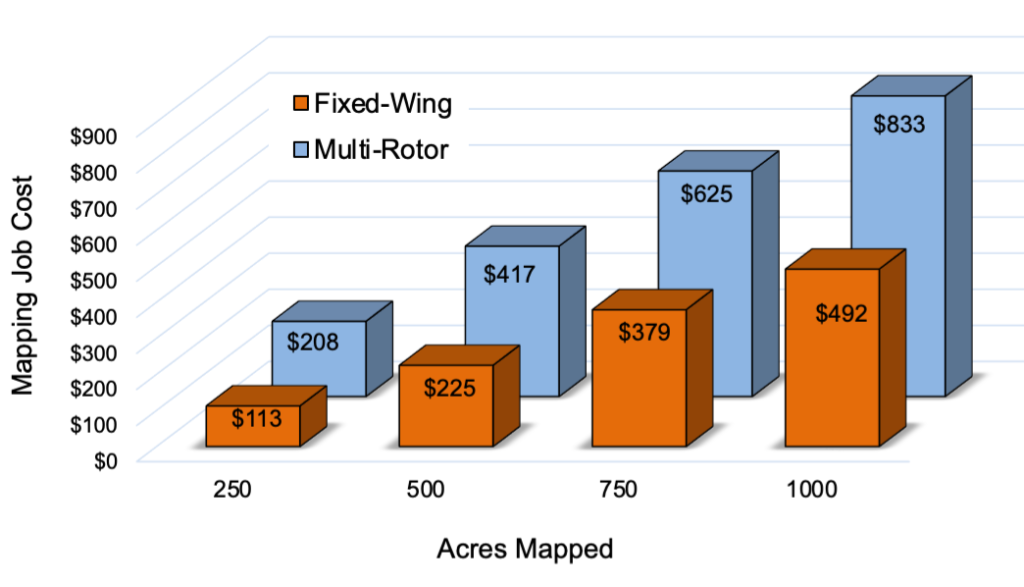 The Wingtra One (Gen 2) has a flight time of up to 59 minutes, and it can cover more than 100 hectares (250 acres) in a single flight. So we also compared the number of batteries required.
Our rule of thumb is: if it takes more than 3 batteries then you don't have the right equipment. It's clear that the Matrice reaches its upper limit at 500 acres.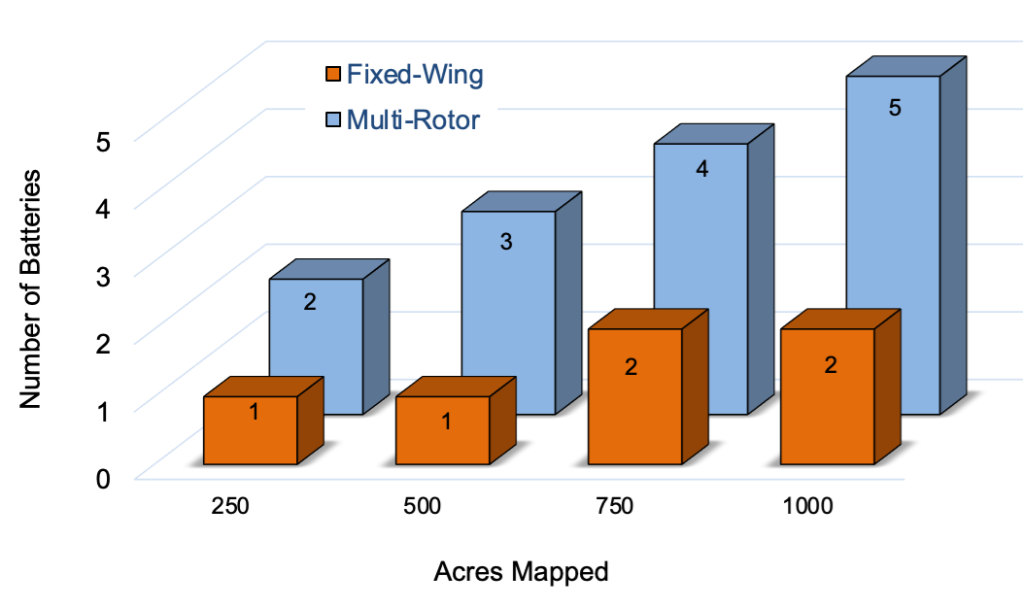 The Wingtra One supports PPK, but only with Wingtra's proprietary WingtraHub mapping software. Lastly WingtraOne GEN II drone is on the Blue UAS Cleared List under the US Defense Innovation Unit's (DIU) Blue sUAS 2.0 program. This means the drone can be used to support U.S. government contracts. This is a serious potential business opportunity.
Type
Fixed-Wing, Vertical Takeoff Landing (VTOL)
Camera

Oblique Sony A6100: 24 MP
Sony Alpha 6100: 24 MP
Sony RX1R II: 42 MP
MicaSense RedEdge-P (5-Band multispectral)
MicaSense Altum (Thermal + 5-Band multispectral)
Max Flight Time
Up to 59 min
Size
wingspan 125 cm (4.1 ft)
Weight
3.7 kg (8.1 lb)
GPS
GNSS PPK (only with WingtraHub)
---
SenseFly eBee X
Bonus Recommendation
---
| | Low | Medium | High |
| --- | --- | --- | --- |
| Flight Time | | | xxxxx |
| Portability | xxxxx | | |
| Price | | | xxxxx |
| Camera | | | xxxxx |
| Coverage Area | | | xxxxx |
| Versatility | | xxxxx | |
Pros
Cons
+ Multiple payload options for
different mapping scenarios
+ Long flight time
+ Blue UAS 2.0 cleared for work
with US government.
– No VTOL capability
– Only supports single sensor
payload
– Size and portability
The SenseFly eBee X is a fixed-wing drone but does not have VTOL capability like the Wingtra One. However, the senseFly eBee X drone has a flight time of up to 90 minutes which is much longer than the Wingtra One. In addition, the price point is much lower than the Wingtra One.
The eBee X supports four application-specific cameras: SODA, SODA-3D, Aeria X, and Corridor. In addition, the platform supports a thermal camera and a multispectral sensor. So the drone is very versatile, assuming you're willing to invest in the different sensors.
The SenseFly eBee X drone is also on the Blue UAS Cleared List under the US Defense Innovation Unit's (DIU) Blue sUAS 2.0 program. This means the drone can be used to support U.S. government contracts.
Frequently Asked Questions
What is Drone Mapping
A drone survey refers to the process of collecting data about a particular area using drones or other aircraft. Surveyors typically use aerial surveys to create maps or to assess land for development projects. Aerial surveying can be an incredibly efficient way to collect data, as it allows surveyors to cover large areas quickly.
Survey drones are specially equipped with cameras and sensors that can capture high-quality data. This data can then be used to create detailed maps or 3D models of the area. Aerial surveying can be an invaluable tool for both businesses and governments. Surveyors have been using balloons and airplanes for this purpose for centuries, but in recent years, drones have emerged as a powerful tool for aerial surveying.
Drones are able to fly at lower altitudes than traditional aircraft, which allows them to collect more detailed data. As a result, drones are increasingly being used for mapping, land use planning, and disaster response.
How Does Drone Mapping Work?
Images are taken by the drones and then processed to create a 2D or 3D maps. This can be useful for surveying land, tracking the progress of construction projects, or taking aerial photographs. The drones are collect GPS data that help to ensure that the drone stays on course. The professional drone mapper employs complex mapping software to convert the collected data.
Aerial maps can be used for a variety of purposes, such as planning development projects, managing natural resources, or even conducting archaeological research. In many cases, they can provide a more accurate representation of an area than traditional ground-based surveying methods. As a result, aerial mapping is an increasingly popular tool for businesses and professionals across a wide range of industries.
Why Use Drones For Aerial Mapping
Commercial drones offer a number of advantages over traditional survey methods. First, they can cover large areas more quickly and easily. In some cases drones have reduced project time by as much as 90%.
Second, drones can collect data from difficult-to-reach places, such as the tops of buildings or cliffs. Third, drones can be equipped with sophisticated sensors that can collect high-quality data. Finally, drones can be operated remotely, which reduces the risk to surveyors.
As a result, drones are an efficient and safe way to collect data for a variety of surveying applications. Traditional surveying methods often require expensive equipment and trained personnel, making them inaccessible to many people. Survey drones provide a more affordable and accessible option for conducting surveys.
Using drones for aerial mapping has a number of distinct advantages compared to other methods of capturing aerial data. Firstly, drones are capable of reaching areas that are inaccessible or too dangerous for humans to explore, making them ideal for surveying terrain in remote, dangerous or complex environments.
Furthermore, aerial mapping done with drones is much faster than traditional methods such as manned aircraft or satellite mapping, allowing for real-time data capture. Additionally, drones can provide a high level of accuracy in their aerial imaging due to their ability to utilize GPS and other positioning systems.
Finally, modern drone technology is able to easily integrate with other software systems, making it easy to process the data collected for further use. All these factors make drones an ideal tool for aerial mapping. Ultimately, the best drone for a particular job will depend on the specific requirements of the project and individual preferences.
However, regardless of which drone is chosen, it's clear that using drones offers many advantages over traditional methods when it comes to aerial mapping.
Limitations On Drone Mapping Accuracy
Drone surveying is becoming an increasingly popular tool for collecting data about large areas of land. But how accurate are these aerial surveys? In general, drone surveying is very accurate. GPS systems allow drones to fly in straight lines and take precise measurements. Surveyors on the ground can then use this data to create detailed maps of the area. However, there are a few potential sources of error.
First, errors in GPS reading can result in inaccurate readings. This can be solved with enhanced GPS systems that reduce errors. Second, trees and other obstacles can block the drone's view of the ground, making it difficult to get an accurate sense of the land's contours.
Finally, a drone survey is only as accurate as the operator flying them. An experienced operator will be able to minimize errors and produce high-quality data.
4 Question To Ask Before You Map
How Large Is The Mapping Area?
This will determine wether you should use a mult-irotor or fixed-wing drone. We recommend fixed-wing if your mapping area exceeds 1 square mile. This also determines how much time you should allocate for the job, which determines your pricing.
What Resolution Is Needed?
Do you need survey grade resolution for a legal dispute. Or do you just need to estimate vehicle location within a few feet. With a Phantom 4 Pro (no RTK) we can obtain 5″ to 6″ ground sampling distance (GSD). That has been suffucuent for all of our construction work. If you want sub-inch resolution then you will need an RTK platform.
What Is Your Customer Budget?
Pricing your services is a major part of running a succesful business. This is a tradeoff between your revenue or porfitabiloty plan and what the market will bear for your services. Talk to your customer. When it comes to price they will give you all the information you need.
What Is The Final Product?
2D orthomosaic maps? 3D interactive model? Should you deliver the product via email, wiritten report, or host the data on a secure website? All the mapping work you do means nothing if the customer doesn't get a useful final product
Lightwave Aerial is a professional drone service company based in Northern Virginia. Our pilots are all FAA Part-107 certified. We offer a full range of aerial photo/video production services, aerial mapping, and aerial inspection.
At Lightwave Aerial, we are dedicated to providing professional drone services that help our clients achieve their goals. Contact us today to find out more about how we can help you with your next construction project!