We've had a crash course in the business of aerial mapping with drones. During our business operations over the past year, we had some successes and some lessons learned. We'll review the important things to know for your drone mapping business.
Aerial mapping with drones has business opportunities in construction, agriculture, real estate, and many other industries. But you must track your time and costs, establish solid contracts, and develop customer relationships to be successful.
Combining technical expertise and an understanding of business priorities is necessary to build a successful drone mapping business.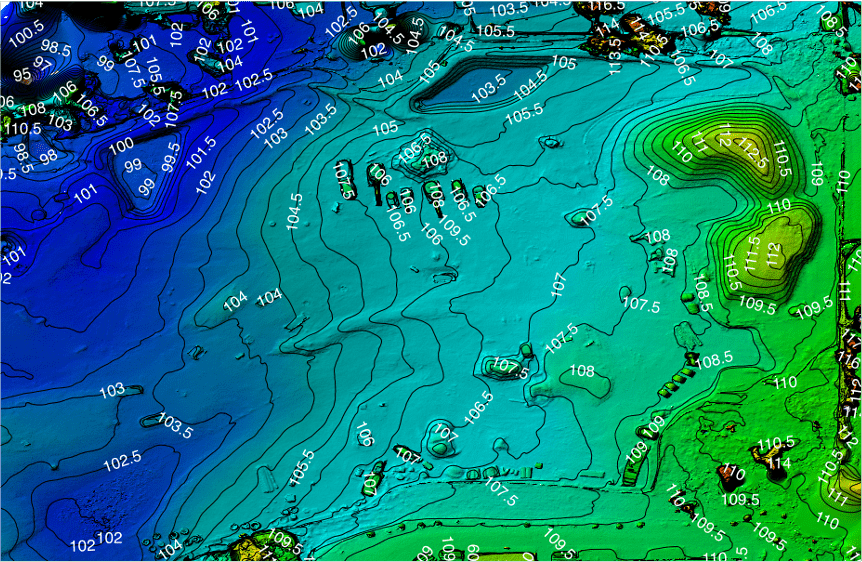 What Is Aerial Mapping
Aerial mapping with drones involves flying a drone to take pictures and generating detailed digital terrain models, orthomosaics maps, or 3D models. Creating terrain maps was traditionally done by land surveyors but drones can do the same job faster and cheaper. Also, drones can access hazardous areas where ground safety would be an issue. With a small startup cost and some hands-on training, you can start a profitable aerial mapping business. For details on starting your business see our article "First 9 Steps To Start My Drone Business"
Drone mapping data can be collected with a regular camera (photogrammetry) or with a LiDAR system. From a business perspective using photogrammetry makes much more sense. LiDAR systems are an order of magnitude more expensive but are only needed in 10% of our jobs. We compared the amount of work required to recover our cost with LIDAR vs photogrammetry.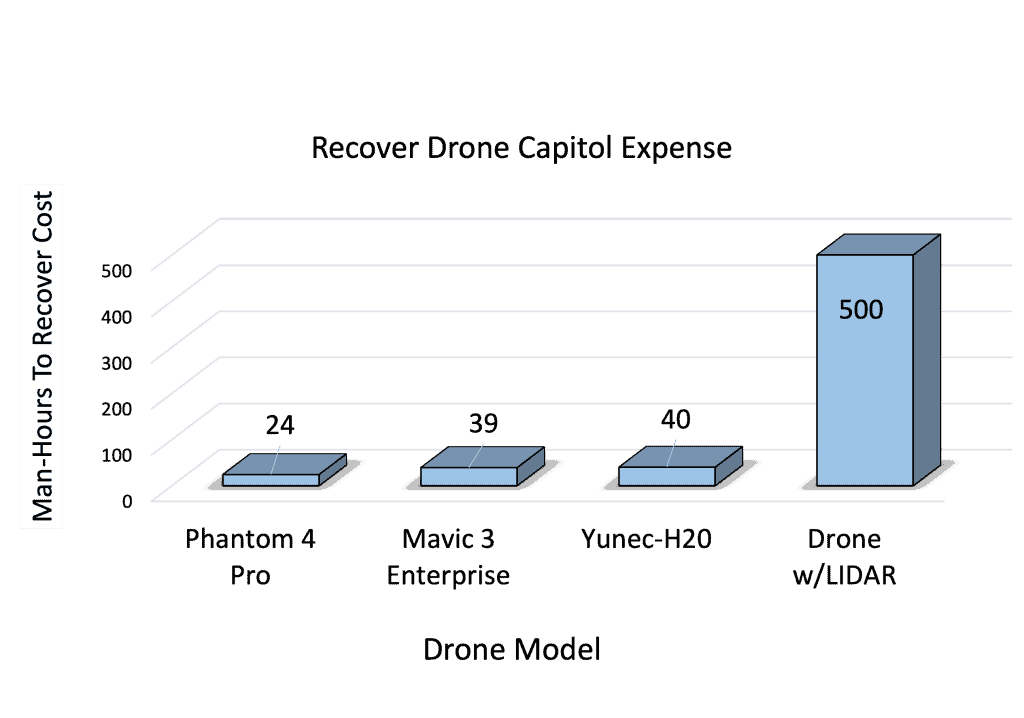 Why Is Drone Mapping Important
Aerial mapping can be used for anything from obtaining high-resolution images of property for real estate to scanning large areas of land for planning projects or harvesting crops. It is an effective tool for digital topology analysis, inspecting infrastructure and terrain, as well as tracking earthwork progress in construction development.
Aerial mapping can also be utilized to keep track of natural disasters such as floods, earthquakes, or forest fires and can make quick decisions on where supplies are needed.
Accurate, cost-effective maps are critical to many industries and drones are revolutionizing the way we collect aerial data to generate these maps.
Aerial Mapping with Drones: Your Business Process
Establishing a drone mapping business is more than just flying a drone and creating Maps. If you want to make money consistently a solid business model and set of business processes.
Get A Written Contract
As a drone business owner, it is important to have a written contract for every drone job that you conduct. The contract outlines the scope of the work, payment, and timeliness. Here is the minimum list of things for your contract
Products you will deliver to the customer (maps, photos, video)
How you will deliver the products (email, web hosting, USB)
The cost and timeline for payment (30-days is a good rule of thumb)
Work schedule and backup dates for bad weather
A way to resolve disputes
You can add more but these are the essentials. Don't neglect this important step if you want to provide quality services while protecting yourself legally.
Pick Your Drone
You probably already have a drone. I use the Phantom 4 Pro because it has the best return on investment. There are several other excellent drone options that we'll describe. If you'd like more information and why we chose the Phantom 4 Pro, see our article "Phantom 4 Pro Drone For Aerial Mapping".
Pick A Your Software
If you're just starting out, drone mapping software can be confusing because you have a lot of options. We use Maps Made Easy and that's my recommendation for any small business. The pricing structure is excellent, it's easy to use, they have great products, and the technical support is excellent. There are many other drone mapping software but they tend to be pricey or require more technical expertise.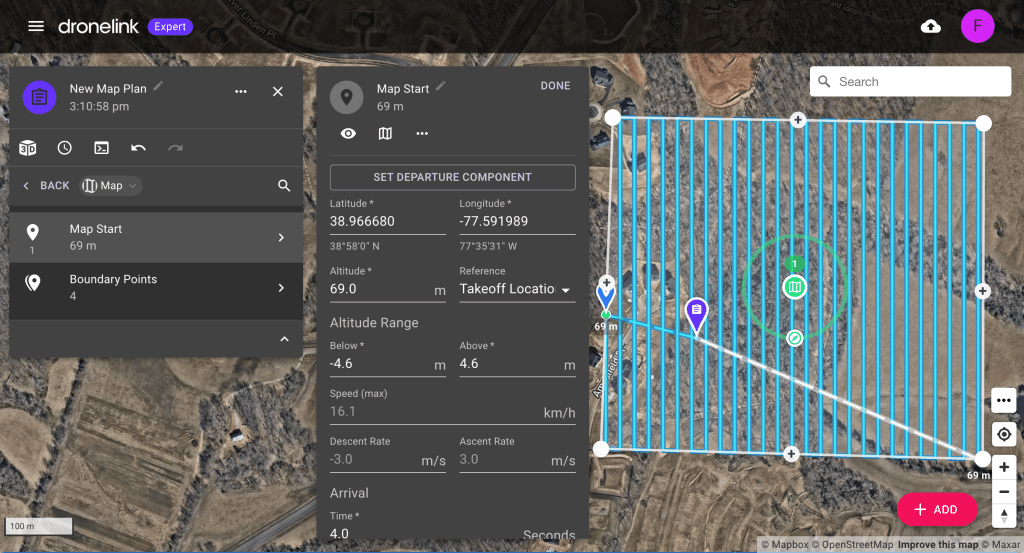 Plan Your Mission
Constructing a flight plan is critical. We recommend a pre-mission site inspection to identify potential obstructions and verify sight lines. You should also create proactive re-routing and contingency plans in case the drone needs to be grounded. With proper planning, prior to takeoff, you will be ready for any surprises during the flight.
Fly The Mission: Test Flight
Your drone mission begins the day before the actual flight. If you're going to run a business then you have to have well-defined, written processes. The day before the flight is when you prepare everything that you'll need. Here's our shortlist
Charge batteries
Update drone and controller firmware
Check and insert memory cards
Printout certificates of insurance
Get LAANC authorizations
Check your equipment
Contact your TSA/FAA watch officer if you're flying on a restricted airspace waiver. See our article "How To Fly A Drone in Restricted Airspace" for details.
Day of the flight, contact your customer to confirm the schedule. Now you're ready to fly the mission. I recommend doing a manual test flight before switching to your auto-flight control. This provides the last check for potential obstructions
Create and Deliver Product To Customer
With the weather you are creating auto mosaic maps, contour maps, or digital surface maps, you will use map generation software to create your products. We recommend that you choose software that is integrated with your flight planning software.
Once you create your maps you need to generate a report for your customer. This essentially takes the information and puts it in a form that the customer can use. It's important to know how your customer wants the product delivered. We've had success creating secure web pages to host customer reports. It doesn't cost anything extra so we can offer the service as a courtesy.
Track Project Time and Compute Hourly Rates
I'm surprised how often this last step is overlooked. You MUST track the total time required to complete the project so you can accurately determine your hourly rate. This lets you know how much you are earning for each hour invested.
You MUST also check your total cost for the project. This lets you know how much profit you're making. Remember revenue is not profit. If you want more details on how to know if your drone business is profitable see our article "How To Build A Profitable Drone Business". We analyzed some of our photo and video jobs. Once we saw the data we were able to make better decisions about how to spend our time.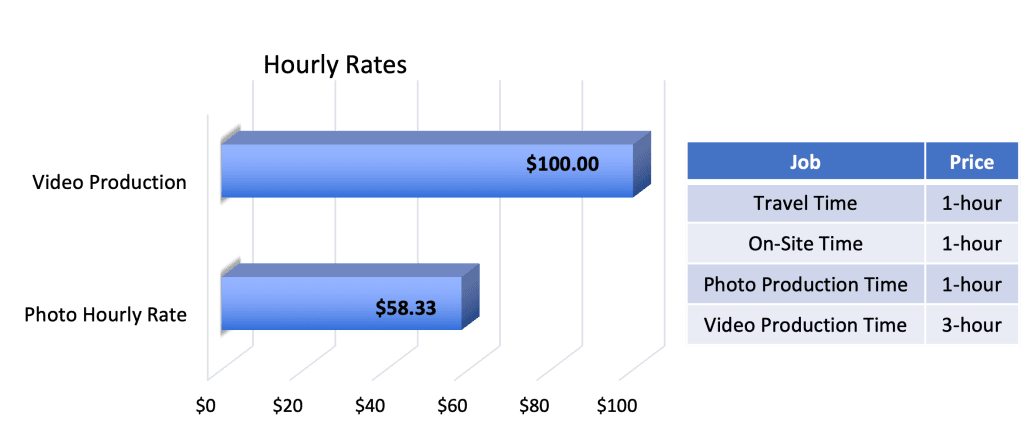 Tracking the total time and cost of projects will allow drone businesses to understand their true value and charge accordingly.
How To Find Drone Mapping Customers
Paying customers distinguishes a drone business from a drone hobby. So it's essential to understand how to effectively find customers for your drone mapping service. It pays (literally) to identify potential customers, define their needs, develop a clear value proposition, and create relationships.
Furthermore, leveraging relationships with other drone operators may lead to referrals and more consistent business opportunities.
Construction
We believe that construction is one of the primary industries for drone mapping. Construction sites benefit from this technology in all phases of the development cycle.
Our most effective way to find customers has been face-to-face interaction. There are many construction site development projects in the Northern Virginia area. You simply go and talk to the site managers. Introduce yourself and present your services. This is a great way to find customers.
Creating helpful content tailored to the needs of construction customers, such as "how drone aerial mapping services can save money" will drive traffic to your website and establish you as an expert.
Attending trade shows or fairs related to drone technology and the construction industry gives drone businesses a chance to meet with customers face-to-face, share knowledge, advertise services, and create meaningful relationships.
Another method we've used is to simply find a construction site. Go there on the weekend and map the area. Create some products and send them to the site manager. We've gotten a number of callbacks for managers that like our products and wanted to work with us.
Real Estate
The real estate industry is where most drone photography businesses start. However, there are also opportunities for drone mapping in real estate. It may be a good idea to bundle your mapping services with photography, video, and 3D imaging services.
Check the real estate listings for properties that have been on the market for a long time or recently reduced in price. This means that the agents are having a difficult time selling these properties. The agents might be open to some new marketing ideas in the form of aerial drone mapping. You can check out redfin.com or realtor.com to find listings for free.
They are no shortage of real estate agents and real estate companies. Our business focuses on properties selling for more than $1 million. Agents with these properties have larger marketing budgets. Just get out there in talk to realtors.
Many real estate companies are looking to establish in-house drone programs. But they need help understanding FAA regulations and training drone pilots. There's an opportunity to provide consulting services to help these companies establish their house programs.
For more information on real estate opportunities see our article,
Environmental
Local municipalities can use drone mapping to assess environment-related issues such as geomorphology, vegetation health, and water erosion.
Local government agencies have special application processes to become approved vendors. Once you're approved then you can bid on projects. Check with your local municipality to find out how to apply.
Once you're approved we recommend that you identify a specific organization or person to present your service. Government folks are very risk-averse, so you'll want to build a long-term relationship.
Expect to submit a formal proposal. You will likely have to compete against other drone companies so make sure that your pricing is competitive and that you understand exactly what the customer needs.
Explain The Value Of Drone Mapping To Your Customer
Explaining the return on investment (ROI) of your services is key. Showing the time and cost savings drone services provide increases customer understanding and trust in your expertise. Here are three specific real-world examples.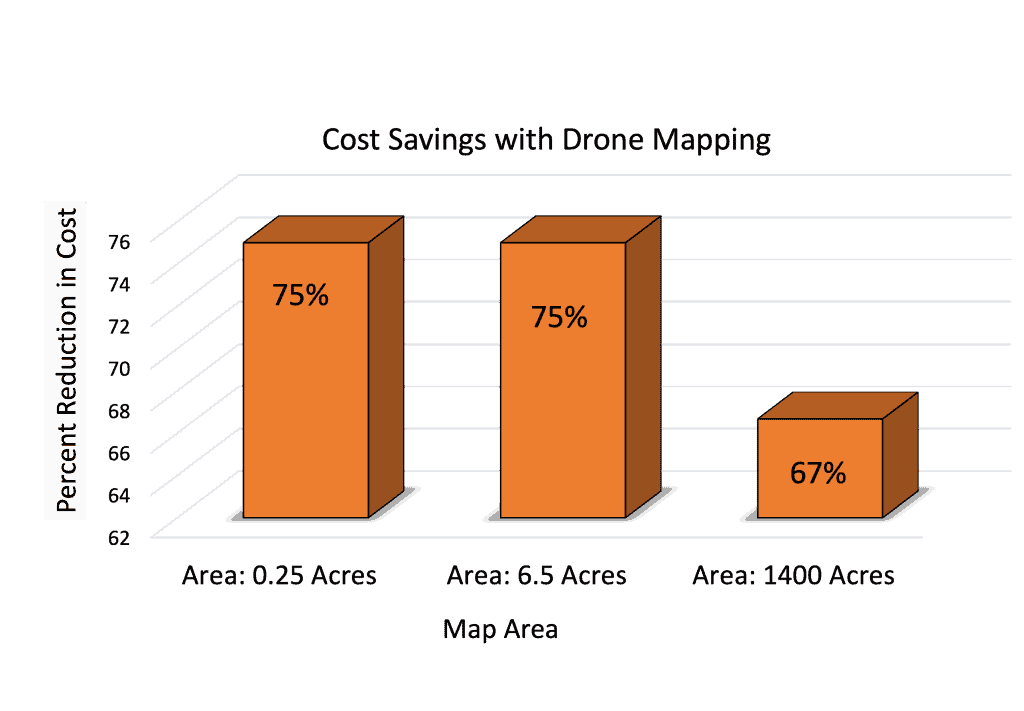 Example-1
Topographic 2D site survey. Orthomosaic maps, contour maps, digital surface maps
Map Area
0.23 Acres (10,000 sq-feet)
Non-hazardous terrain
Land Survey
Average Cost: $2000
Time To Complete: 1-Day
Drone Mapping
Average Cost: $500
Time To Complete: 1 hour
Example-2
Topographic 2D site survey. Orthomosaic maps, contour maps, digital surface maps
Map Area
6.5 Acres (.01 sq-miles)
Hazardous Terrain
Land Survey
Average Cost: $3000
Time To Complete: 3-Day
Drone Mapping
Average Cost: $750
Time To Complete: 2 hours
Example-3
Stockpile survey. 3D modeling and volumetric analysis.
Map Area
1400 Acres (2 sq-miles)
Flat Terrain
Land Survey
Average Cost: $3000
Time To Complete: 20 hours
Drone Mapping
Average Cost: $1000
Time To Complete: 9 hours
Using drone technology for aerial mapping significantly reduces both time and cost of your mapping jobs. These examples help you show the value of your services to potential customers. If you want to understand how these numbers will drive your profitability and then see our article "How to Build a Profitable Drone Business".
Sell Your Service to The Customer
Competitive Pricing
Your pricing strategy allows you to price your services competitively and still make a profit. You'll need to research competitors. This is not hard since many companies advertise their prices. It will take some trial and error but the customer will let you know when you've got it right.
Pain Points
People tend to care more about keeping bad stuff from happening than they do about making good stuff happen. This is the idea of a pain point. Where is the customer having problems? If you talk to the customers they will tell you about their problems. Then you determine how your service can stop the pain.
For example, we've found that constriction managers are always worried about safety. If you can show them how to keep someone from getting hurt, they will listen to you.
Add Value
Always give away free stuff. Whatever service or product you offer, give away something extra for free. One of the things we do is offer free web hosting for all of our products on a secure website.
Another thing off we often do is provide additional products. If we contract to provide maps and photos, then will also take video and provide that for free.
Recommended Drones For Aerial Mapping
I've listed the three least expensive drones that have cameras with mechanical shutters. Any of these would be an excellent choice for your drone business. As a small business owner, my main concern is the amount of work needed to recover the cost of the drone. Remember, you don't have a profitable business until to recover all of your capital expenditure costs.
Phantom 4 Pro (What We Use): $2000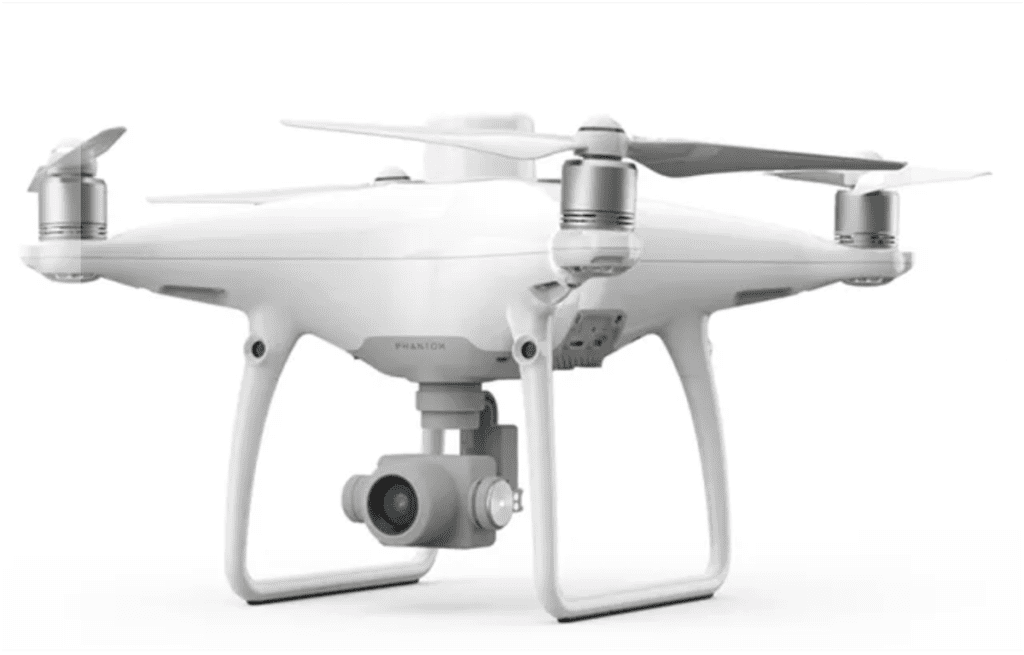 PROS
Proven Reliable
Least Expensive
CONS
Difficult to find
Older Technology
The DJI Phantom 4 Pro drone has been the go-to mapping drone for many years due to its affordability, portability, and performance. It is the defacto industry standard by which other drones are measured. However, it is no longer in production so they can be hard to find. Also, it does not have many of the most recent technologies.
Mavic 3 Enterprise: $3700

PROS
Newest Tech
47-minute Flight Time
Small Size
CONS
Unproven Reliability
Cost
The DJI Mavic is the smallest and lightest option and has the longest flight time of 47 minutes. It contains the newest technology and the 4/3″ camera sensor is larger than the Phantom 4 Pro. Because it's so new there is no track record of reliability, but we believe this drone may eventually become the best option.
Inspire-2 with X4S Camera: $4000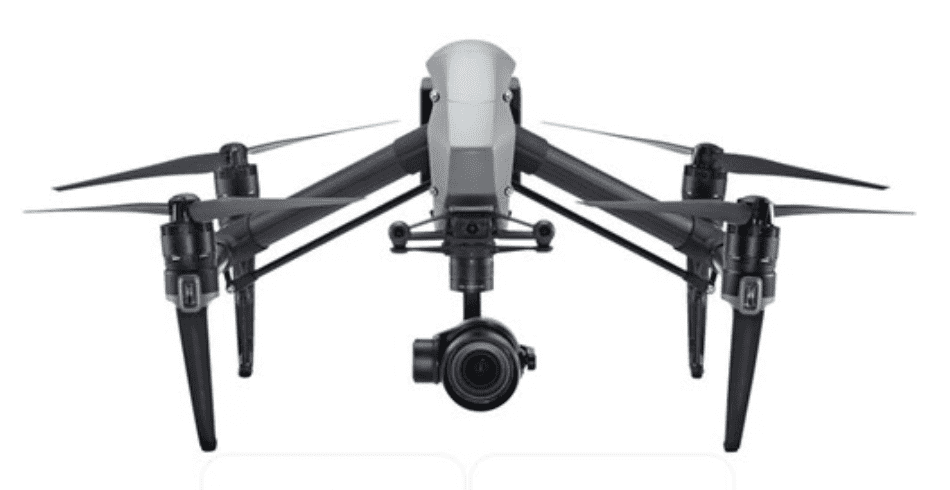 PROS
Interchangeable camera
Rugged
Map Resolution
CONS
Large Size
Cost
Inspire 2 is the largest and most rugged option. The camera can be swapped and has dual-battery redundancy. We recommend using the X4S because it has a mechanical shutter which reduces image distortion.
However, its hefty price tag means it may be cost-prohibitive to those just starting out in the drone business.
Future of Aerial Drone Mapping Business
Advances in drone technology will create more opportunities in the drone mapping industry. Detailed geographic data, access to hazardous terrain, and time/cost saving will continue to have value. But there are several ways that drone mapping businesses will need to stay competitive in the future.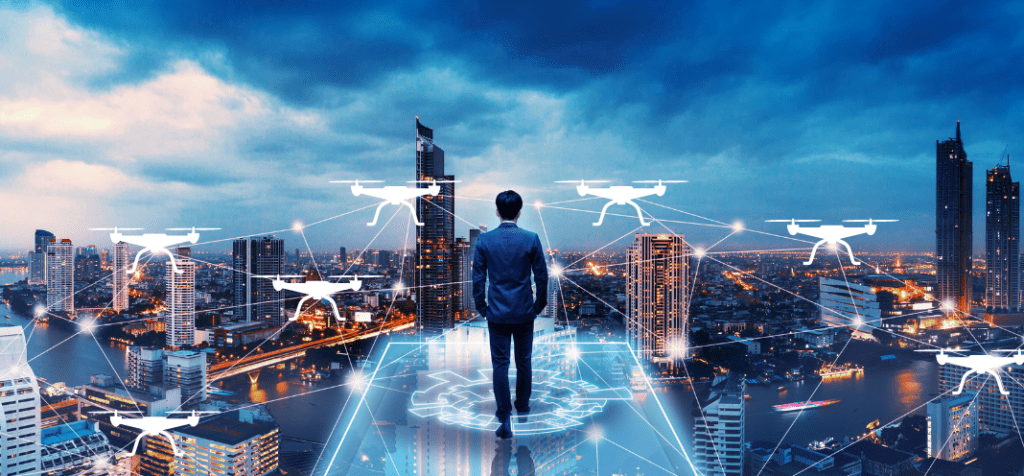 Leverage Beyond Line of Sight Operations
Drone businesses will need to take advantage of beyond visual line of sight (BVLOS) drone flights.
BVLOS drone flights allow drone operators to fly their drones beyond the visual range. This gives drone businesses more options for capturing aerial imagery without having an observer on-site who maintains visual contact with the drone.
Integrate Satellite Products
Integrating drone and satellite imagery will be a major advantage for drone businesses. By combining drone technology with satellite imagery, drone businesses can provide a holistic view of remote, large-scale projects and help customers assess progress on-site and from afar.
Satellite imagery can provide an overview of a large area to help plan drone flights accordingly, while drone cameras can offer higher-resolution images of specific terrain features or structures located within this area. Integrating both sets of images into data analysis provides more accurate insights than those derived from drone imagery alone
Pick A Niche And Specialize
By specializing, you will be able to understand details that are specific to the drone industry in that niche. Focusing on one drone-related service provides you with an opportunity to develop more experience and expertise, to identify business growth opportunities.
The drone business market is expected to expand dramatically, so now is an excellent time to capitalize on this lucrative industry. But you need to mind your business.
Lightwave Aerial is a professional drone service company based in Northern Virginia. Our pilots are all FAA Part-107 certified. We offer a full range of aerial photo/video production services, aerial mapping, and aerial inspection.
At Lightwave Aerial, we are dedicated to providing professional drone services that help our clients achieve their goals. Contact us today to find out more about how we can help you with your next construction project!