We have an awesome real estate agent. A while ago I told him I was starting a drone photography business. He told me that he uses aerial photography services for most of his properties. It got me thinking that maybe we should write an article specifically for professionals looking to do real estate marketing with drone photography.
Drone aerial photographs, video, virtual tours, and three-dimensional models will enhance real estate marketing. Get the right equipment, get the necessary certifications, and create good policies and procedures.
NAR studies have shown that aerial imaging increases sales, reduces days on market and that the majority of sellers preferred to see this type of marketing. The statistics also show that only half of all real estate agents use drones in their marketing programs.
If you're thinking about using aerial photos for your real estate business, then this is the perfect guide for you. We'll discuss the most important drone photography marketing products, and how much you can expect to pay, we'll also explain how to start your drone photography program, and we'll provide tips for getting the best outcomes for your marketing campaign.
So whether you work in commercial or residential real estate, read on!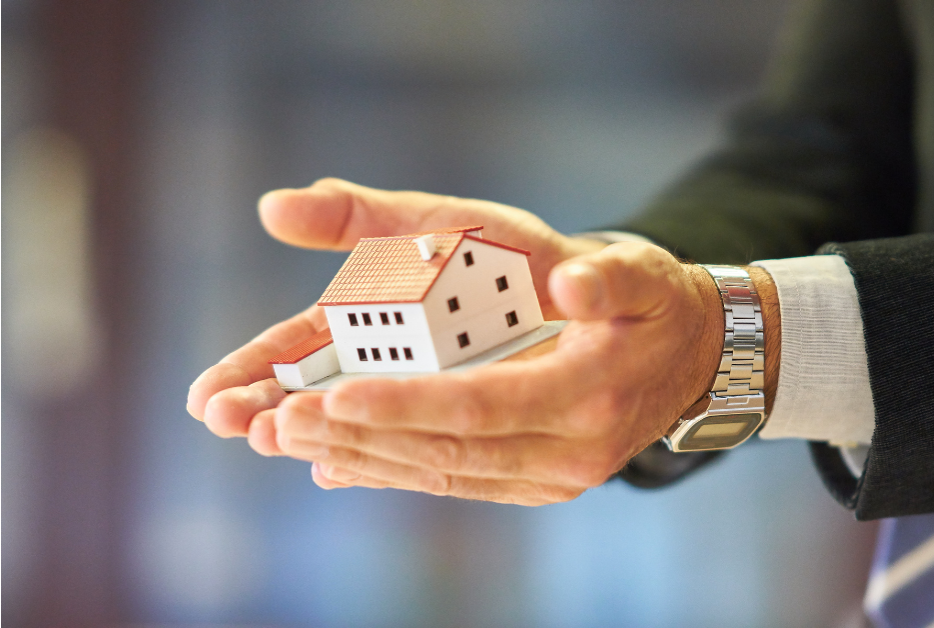 Why Real Estate Drone Photography?
The National Association of Realtors (NAR) member statistics consistently show that
Sellers prefer agents who use real estate drone photography
Homes listed with aerial images to capture more attention and sell faster.
Even given these statistics, a 2021 NAR study showed that roughly 50% of real estate agents in the study use drone photography.
Real estate drone photography gives buyers a unique perspective of the property and helps show things that would be difficult to see from the ground such as roof or chimney damage, potential terrain slope problems, or property line issues. This is a great way to make sure your real estate marketing stands out from the competition.
Real Estate Drone Photography Products
There are a number of products to support your marketing. This section covers what you should expect and the pricing for each product.
SERVICE
WHAT YOU GET
PRICE RANGE
Photography
15 to 20 photos
$100 to $200
Videography
10-15 short raw video clips
1 – 2 minute fully produced video
$300 to $750
Virtual Tour
360° interactive virtual tour with 5 hot spots
$300 to $1000
Satellite Combo
Drone + Satellite produced video
$300 to $750
Ranges may vary based on the size and complexity of the job
Here are 3 examples of real estate drone photography work we've done. Prices for individual jobs will vary depending on travel time, post-production requirements, and customer deliverables.
Real Estate Aerial Photography
This is what most people think of when they envision drones. Drone photos of a real estate property from unique perspectives.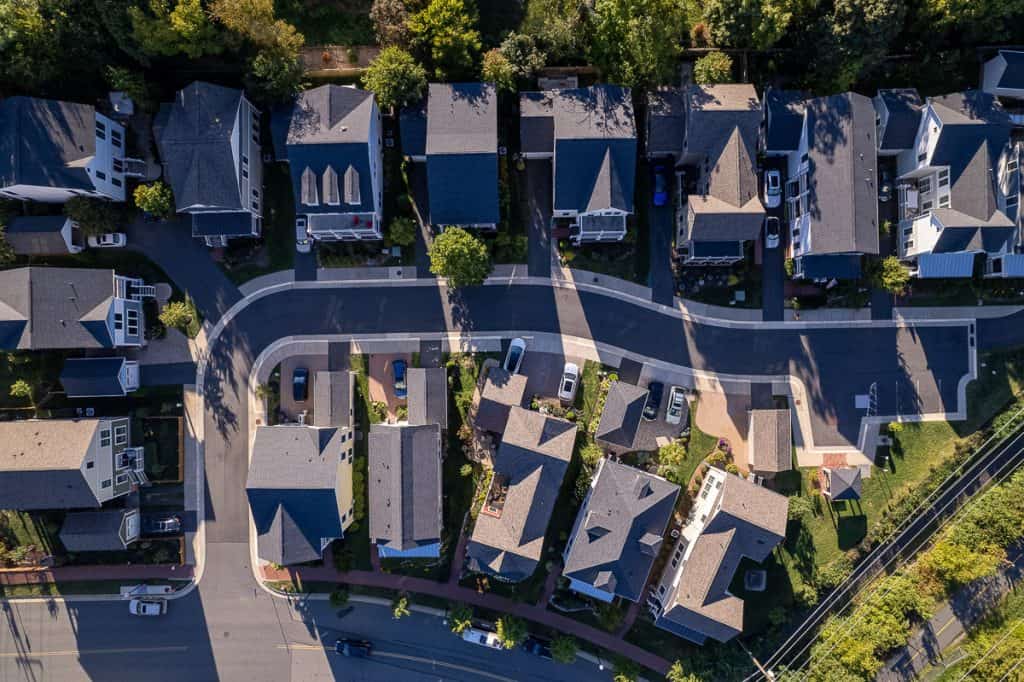 What Will You Get
You should expect a minimum of 15 to 20 still photos. Be sure to request color grading and correction to get the best possible images. Drones are capable of taking ground images and indoor images, so you can get full service.
How Much Will It Cost
For standard residential real estate expect to pay in the range $100-$200 per job. If you have multiple properties then you should negotiate a lower price. Drone pilots know that this is low-margin work. For commercial properties, you will pay more depending on the square footage.
Real Estate Aerial Videography
Real estate drone videography is a rapidly growing field and it can provide a much more engaging experience.
What Will You Get
Our real estate customers tend to want 10-15 short raw video clips or a 1 – 2 minute fully produced video. Again, drones can do both indoor and outdoor videography, you can seamlessly transition between outdoor and indoor video to create a unique product.
For the produced video make sure to see your pilot's portfolio to evaluate the quality. Many pilots do not have the video post-production skills required to create high-quality products.
How Much Will It Cost
Our price point for raw video clips is in the range of $150-$300. For a fully produced video, average product prices range from $300 up to $750 depending on the job requirements and your technical skill.
Prices range much higher for professional movie shoots. Often the drone provider will outsource the video production, this tends to increase the price so try to find a company that does everything in-house.
Real Estate Aerial Virtual Walkthrough
Drones can generate outdoor and indoor 360-degree interactive virtual tours. These aerial tours provide an immersive experience where people can explore from the comfort of their own homes.
What You Will Get
You can get a complete 360° interactive virtual tour with a seamless transition from indoor to outdoor. In addition to the basic tour, you should expect a minimum number of hotspots, which can consist of text, video, or photos.
Hotspots are places to click to get more information about a specific area. These hotspots are particularly useful for commercial real estate like shopping malls where you can provide detailed information about specific stores like menus for restaurants, store hours, or coupons.
We have found that very few real estate companies take advantage of this product, so this could definitely be a differentiator for your marketing campaign.
How Much Will It Cost
Because this is a relatively new product and technology pricing has not been well established in the market. Our pricing structure ranges between $300-$1000 depending on the size of the property and the detail requested.
Our pricing includes five hotspots and we charge roughly $25 for additional hotspots.
Satellite Integrated Video
Satellite data can be integrated with drone video to provide an enhanced product. We serve in Northern Virginia and the Washington DC areas where there are many no-fly zones. So we had to develop this product for areas we were unable to fly.
What You Will Get
You get essentially a drone video with additional satellite data that can show the relationship of the property to local amenities, traffic access routes, and other commercial areas.
For residential properties, this can be used to show the property's relation to schools, grocery stores, churches, and recreational facilities. For commercial properties, this is used to show access to major traffic routes, other commercial areas, and large residential complexes with potential customers.
In areas that restrict drone flights, we found that satellite imagery alone can provide a useful marketing product.
How Much Will It Cost
The cost will be similar to drone video in the range of $300-$750 depending on the size of the property and the complexity of the job. However, these jobs tend to require additional production graphics so the price range can be higher depending on the job complexity.
Where Should You Start
Your first step is to decide whether you want to create an in-house program or hire an external drone company to do the work. Both options have advantages and drawbacks.
In-House Program
More real estate companies are looking to use drones to enhance marketing. However, it can also be expensive and time-consuming to find and hire a professional drone photographer.
One alternative is to build an in-house drone program. This can be a great way to save money and get more control over the quality of your photos. Plus, it can be a fun and challenging project for your team.
Your first step is getting your drone pilot license. Flying drones for commercial purposes requires an FAA Part 107 drone license. For more details see our article "How to Get Your Drone License: A Complete Guide"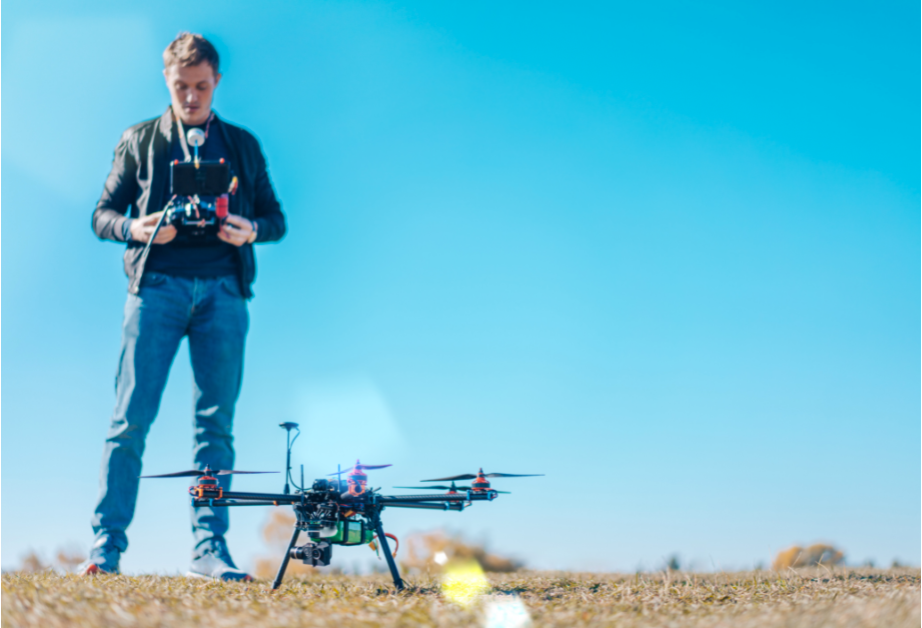 There are definite benefits to having your own drone program
Increased flexibility. With your own drones, you'll be able to quickly and easily deploy them for photography missions, without having to rely on outside services. This can be particularly helpful if you need to rapidly respond to customer requests or make last-minute changes to your plans.
You can reduce your long-term expenses. Hiring professional drone services it's not cost-effective if you plan to have many drone flights.
Develop in-house talent. Photo editing, video production, and virtual tour product creation are valuable skills to develop within your marketing team.
However, there are also some challenges that come with building an in-house drone program:
Time to develop skill sets. You will need to obtain a commercial drone pilot license, this requires some time and expense. Some additional time and training are to safely and effectively operate a drone.
Lastly, there will be a learning curve to get basic photography and videography post-production skills to produce professional products.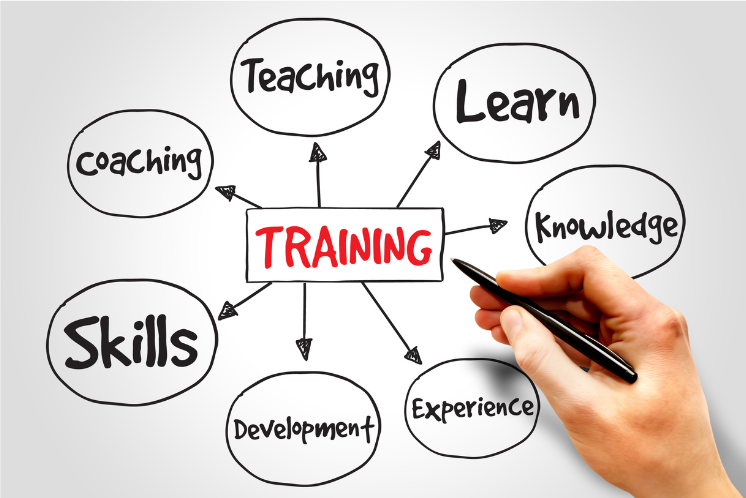 Management Infrastructure. Your in-house drone program will require management to handle safety documentation, secure storage of the drones, track drone usage, and any FAA reporting requirements. There is also drome maintenance and any needed repairs.
Purchasing a drone. There's the upfront expense of purchasing a drone or multiple Jones for your business. You should plan for $1000-$2000 per drone which includes the drone, additional accessories, and insurance costs. For information evaluating drone ROI see our article "DJI Air 2S vs Competitors: Return on Investment"
Data management. Expect to generate terabytes of data within the first six months of your real estate photography program. You need to develop a data plan that includes backups, data security, and proper data disposal.
If you're willing to put in the extra effort, an in-house drone real estate photography program can be a great way to get high-quality real estate photos without breaking the bank.
For more details see our article "How To Start Your In-House Drone Program"
Hire A Professional
Finding the right drone pilot can be an excellent solution. It's important to do your research to make sure you find a qualified professional. Don't be afraid to ask questions, qualified pilots will be happy to discuss their background. Here are some basic items to check
Make sure that the drone operator is insured and licensed.
Ask to see examples of their work to get an idea of their style and skill level.
be sure to discuss your specific needs and expectations so that they can tailor their services to your needs.
Agree on a price ahead of time so that there are no surprises later on.
Discuss your vision for the project and make sure that the photographer is on board.
For more details see our article "How To Hire A Drone Pilot: Your Practical Guide".
Drones For Real Estate Photography
Our philosophy when it comes to real estate drone photography: "smaller is better". You want to keep your operating costs low and there are a number of very capable drones that we recommend for real estate photography.
DJI Mini 3: $900 Base Package
The DJI Mini 3 is one of the newest DJI drones. The mini 3 is perfect for indoor photography especially if you're working with smaller condos or apartments. Photo quality is only 12 MP and it only has 2X zoom capability so it is somewhat limited compared to the other options. However, the image quality is still excellent.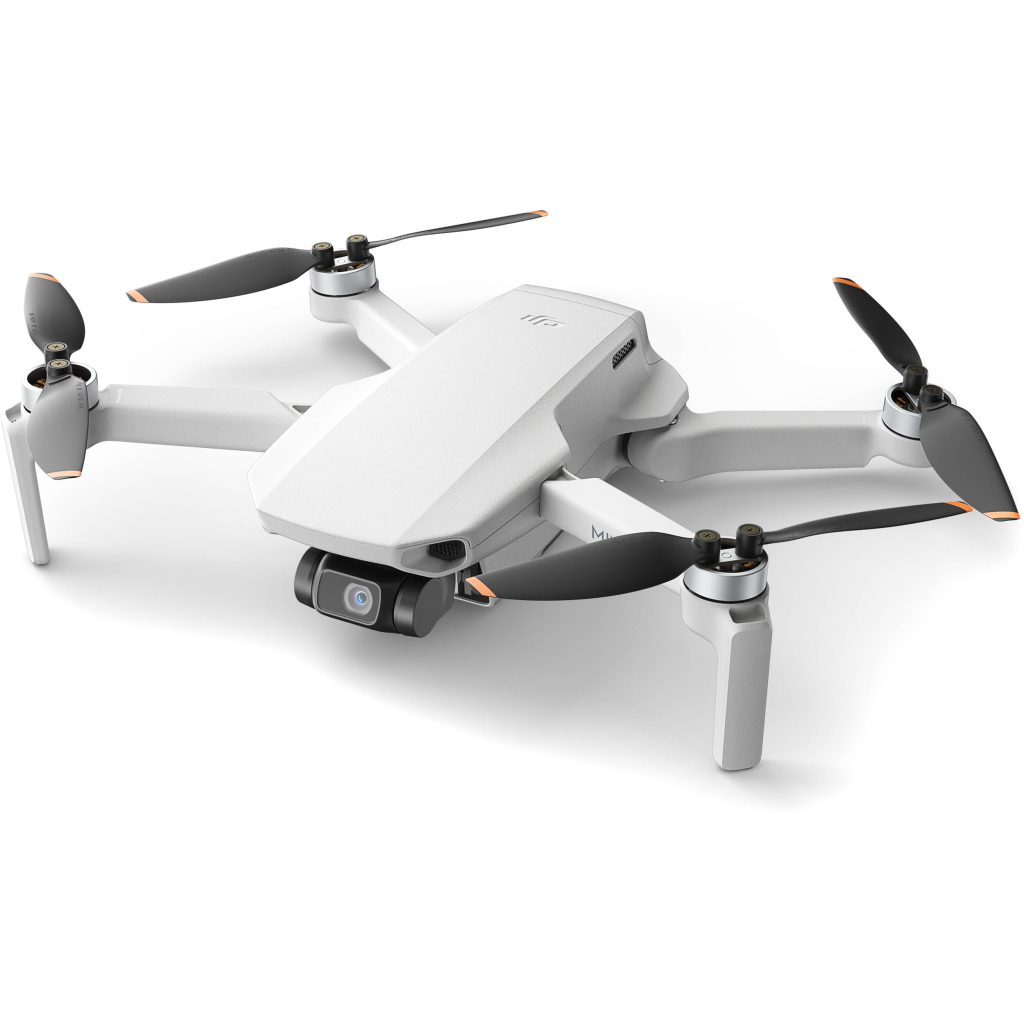 The $800 retail price point is the major draw. The mini 3 is perfect if you're you want a great drone that minimizes your upfront costs.
DJI Mini 2: $600 Full Package
If you really want to minimize your costs then the DJI Mini 2 two is still a very good drone and the retail price point is below $600. You can even more money buying a "pre-owned" drone on eBay or a refurbished drone on Drone Nerds.
DJI Air 2S: $999 Base Package
The DJI Air 2S is the drone we use for all of our photography and videography. It has a small footprint but it is super rugged. This drone has intelligent flight modes that are particularly well-suited for videography, the image quality is 20 MP and it has 4X zoom, so it's definitely an upgrade from the Mini.
The $999 price point is awesome, but we recommend paying a bit extra for the $1300 "fly more combo". You get a lot of discounted accessories that you will need to purchase eventually. The Air 2S has been out for a while, so you can save money with a "pre-owned" drone on eBay or a refurbished drone on Drone Nerds.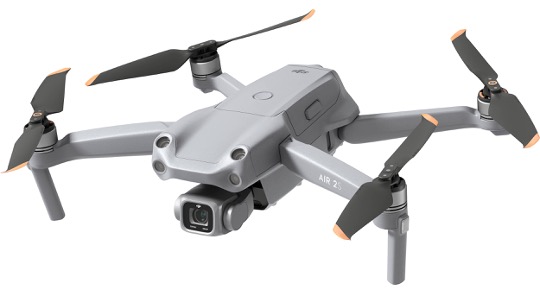 Mavic 3: $2200 Base Package
The DJI Mavic 3 (as of publication date) is the newest DJI drone and it has the best performance of all three drones, although overall the performance is only slightly better than the air 2S. The Mavic 3 has 4X optical zoom, 20 MP photo quality (same as Air 2S), and a whopping 47 min flight time.
From a business perspective return on investment just doesn't make sense for us because the slight increase in performance over the Air 2S doesn't justify the huge price difference. But if you expect to generate enough revenue to recoup your costs and you want the absolute best performance possible. Then the Mavic 3 is the drone for you.
You can save some money with the older DJI Mavic 2 which is still a very good drone and can be bought "pre-owned" on eBay or refurbished on Drone Nerds.
Drone Photography Tips
Recommended Photography Shots
What photos should you capture? What's the best way to frame the photos? Once you have a clear idea of what you want your drone shots to look like, you'll be able to better plan your drone images. Here are some of our recommendations.
Bird's Eye View
Birdseye view shot he's looking straight down from a height of no less than 100 to 200 feet. It's literally what a bird would see when flying over your wedding.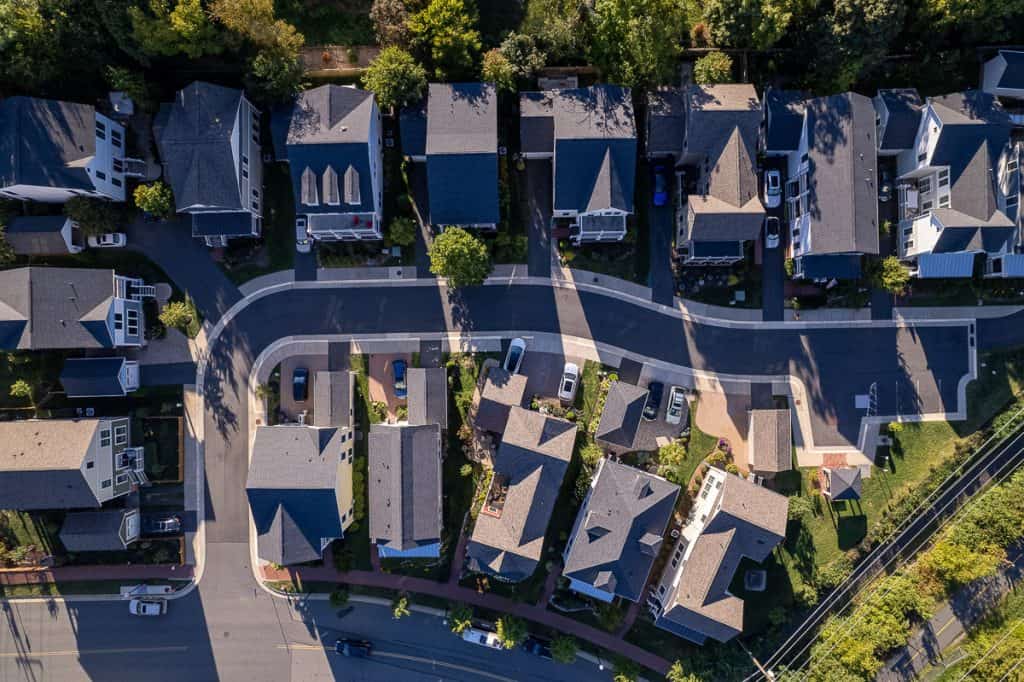 Golden Hour
All photographers know that the best time to take photos is sunrise or sunset these times are called the golden hour. Make sure that you get plenty of photos at sunset to capture the unique lighting.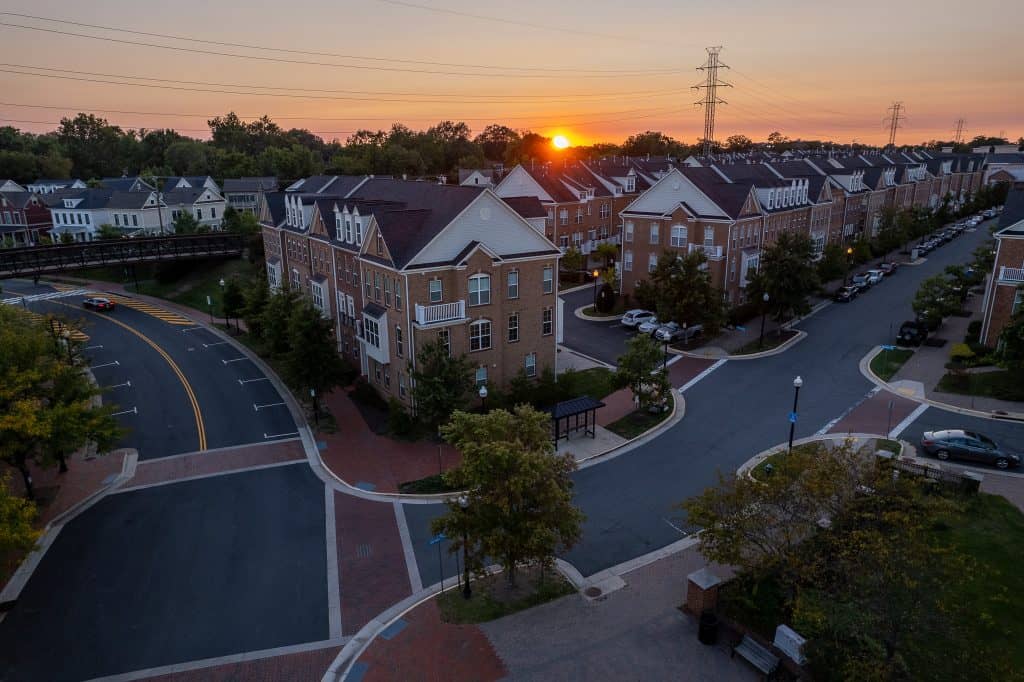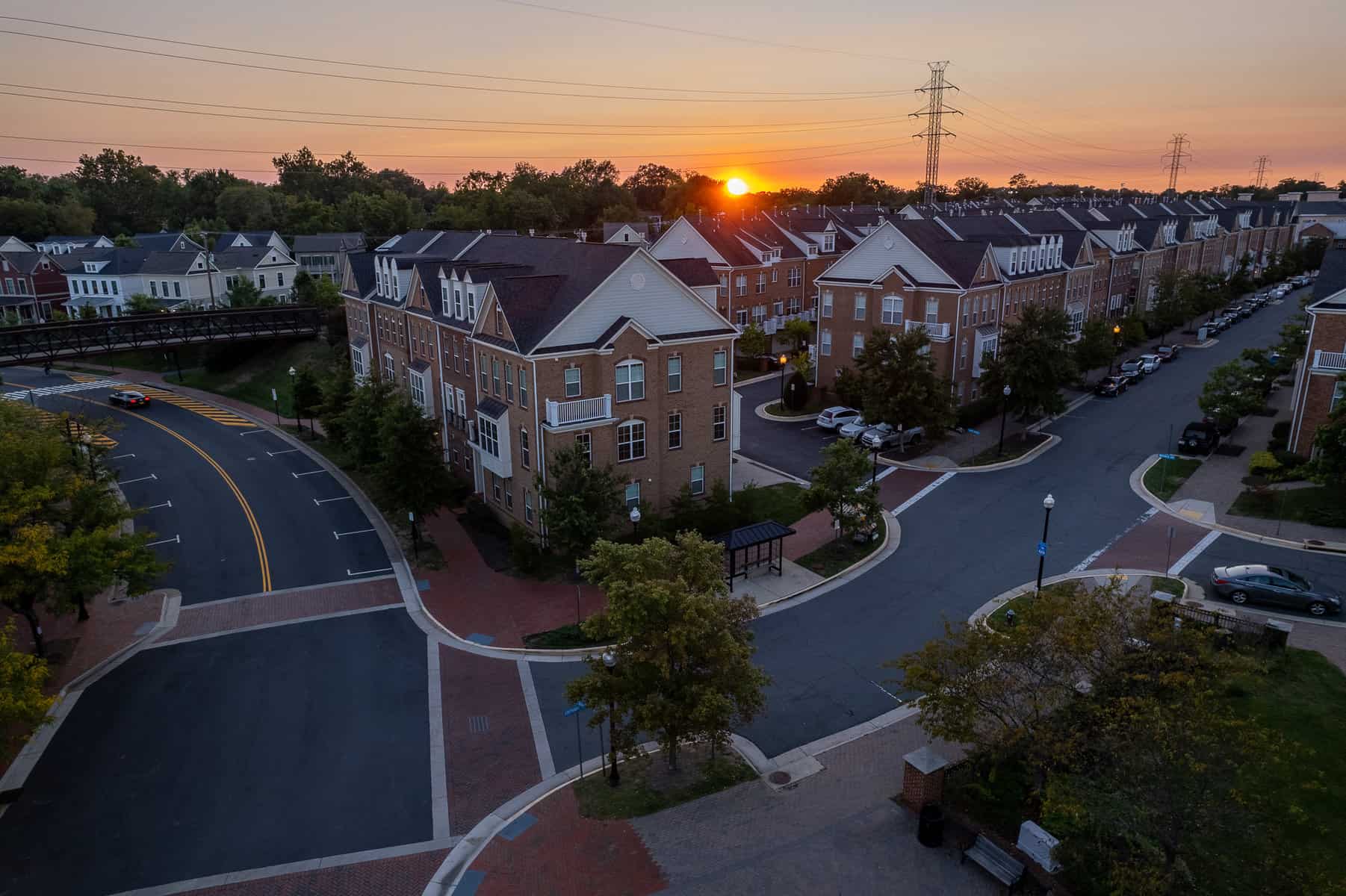 Cardinal Shots
With cardinal shots, the drone is positioned approximately 50-ft to 135-ft above the ground, and images are obtained every 45° to provide a full 360° view of the property.
For more details see our article "Drone Photography: A Practical Guide"
Recommended Video Shots
The Rocket
The rocket shot starts directly above the vent looking straight down at a height of 30 to 60 feet then flies straight up to a maximum height to capture the widest field of view. This is what your view would look like from sitting on top of a rocket
Circular
The circular shot focuses on one area as the drone flies a circular pattern around the event. This can be enhanced if the drone increases height while circling making a corkscrew pattern.
The Reveal
Your reveal shot begins with the subject being obscured by some object, perhaps a tree or building. The drone then slowly flies upward or to the side to reveal the subject from behind the object.
The Flyover
In this case, the drone flies forward at a fixed height and constant speed by maintaining a fixed view of the subject.
The Dronee
The drone starts close to the subject, then flies upwards and backward, to continuously reveal the surrounding area around the subject. This shot gives a sense of the scale of the surroundings.
The Future of Real Estate Drone Photography
Drone technology allows for high-quality photos and videos to be captured from a variety of angles, offering a comprehensive view of a property that was once only achievable with expensive aerial photography. There are several potential future drone products for real estate.
Thermal Imaging
Thermal imaging drones will allow homes to be inspected for energy efficiency. In addition, thermal imaging can be used to inspect and maintain solar panel technology which has entered the residential market.
Digital Mapping
Special technology, called photogrammetry, transforms aerial photographs into detailed digital terrain images. These digital terrain images are analyzed to identify potential flood plane issues, verify property lines, or identify easements.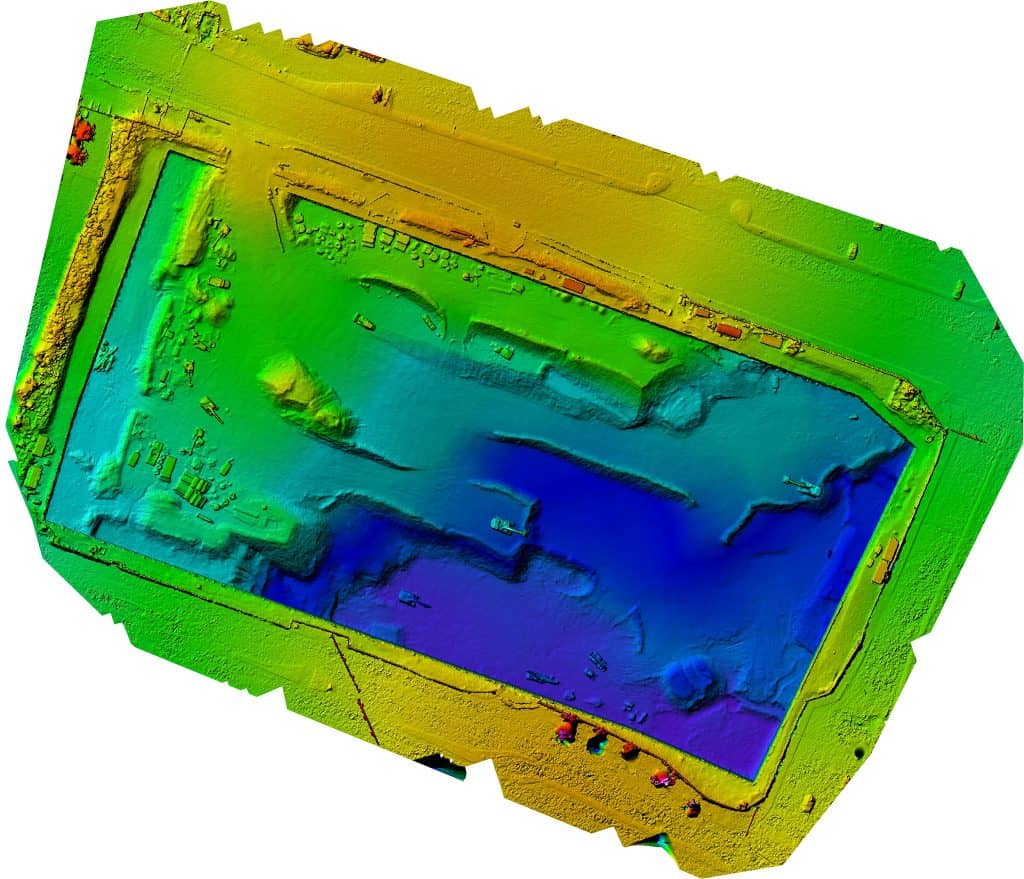 3D Imaging
Aerial images are stitched together to create detailed 3-dimensional property models that could be used by architects and builders to plan potential upgrades or improvements.
Drone photography is a great way to market your real estate. If you're not sure where to start with drones, we can help. Our team has the experience and knowledge necessary to get you started, whether you need drone service or help to start your in-house program. Give Us A Call.
Lightwave Aerial is a professional drone service company based in Northern Virginia. Our pilots are all FAA Part-107 certified. We offer a full range of aerial photo/video production services, aerial mapping, and aerial inspection.
At Lightwave Aerial, we are dedicated to providing professional drone services that help our clients achieve their goals. Contact us today to find out more about how we can help you with your next construction project!