If you're in the real estate business, then you know that good photography is essential. Drones are all the rage these days and for good reason.
According to the National Association of Realtors (NAR), real estate pros have increasingly been using drones to capture aerial photos and videos of their listings or even the interiors.
While traditional photography is still important, aerial photography services are becoming increasingly popular. Real estate drone photography can help you capture a property from a unique perspective, and it can be a great marketing tool.
If you're thinking about using a drone for your real estate photography business, then this is the perfect guide for you. I'll go over the basics of drone photography, as well as some tips to make sure that you get the best results possible.
So whether you're a real estate agent looking to market commercial or residential real estate, read on!
Real Estate Drone Photography: What Do You Need To Know?
Real estate drone photography is a great way to differentiate your real estate marketing. With everyone taking traditional Real Estate photography, it is a great way to make your Real Estate stand out from the rest. It helps give buyers a unique perspective of the property that they are interested in.
Drones can help show things that would be difficult to see from the ground such as the roof, any water damage, or the lay of the land. Real estate drone photography is becoming more and more popular and is a great way to make sure your Real Estate stands out from the competition.
 What Can You Create?
Photos
Real estate drone photography is a relatively new field that has already begun to change the way that properties are marketed and sold. Aerial photos can provide an overview of the property and its surroundings, making it easier for potential buyers to get a sense of its size and layout.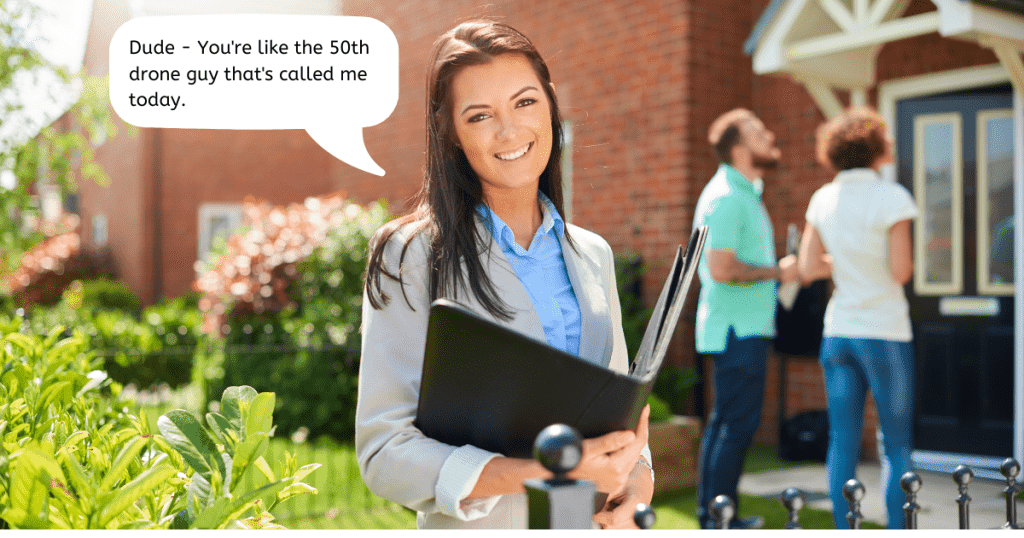 As drone technology continues to improve, it is likely that real estate drone photography will become increasingly commonplace, providing a valuable tool for both buyers and sellers alike.
However, there are some challenges associated with real estate drone photography.
First of all, it can be difficult to get the drone into position in a crowded space.
Secondly, the camera operator needs to be careful not to damage any of the property while taking pictures.
Despite these challenges, real estate drone photography offers a great way to showcase properties and is sure to become even more popular in the future.
Video
Drones also allow us to cover large areas in a relatively short amount of time, making them an efficient way to produce video content. Best of all, drones are relatively affordable and easy to use, making them a great tool for anyone interested in creating video.
Whether you're a real estate agent looking to give your listings a boost or a videographer looking for new and interesting ways to capture footage, real estate drone photography is definitely worth exploring.
Interactive Walkthrough
By using drones, you can create virtual walkthroughs of properties that potential buyers can view from the comfort of their own homes. This can give buyers a better sense of the property layout and location, as well as the size and condition of the home. In addition, drones can be used to create virtual tours that allow buyers to view the outside and inside of a property.
With interactive walkthroughs, real estate agents can set their listings apart from the competition and give buyers a more comprehensive view of the homes they are interested in.
Three-Dimensional Imaging
By flying a drone around the outside and inside of a property, you can create a detailed, three-dimensional view of the property that potential buyers can explore. This type of photography can be especially useful for properties with difficult or dangerous to access areas, such as those with steep cliffs or heavily wooded areas.
With 3-dimensional imaging, real estate agents can give potential buyers a much better idea of what a property looks like and help them to make more informed decisions.
Where Should You Start?
In-House Program (Do It Yourself)
As the demand for aerial photography increases, more businesses are looking to build in-house drone programs.
However, it can also be expensive and time-consuming to hire a professional photographer. One alternative is to build an in-house drone program. This can be a great way to save money and get more control over the quality of your photos. Plus, it can be a fun and challenging project for your team.
There are many benefits to having your own drone program,
including increased flexibility,
lower costs, and the
ability to customize your services.
However, there are also some challenges that come with building an in-house drone program. Below, we'll take a look at some of the key considerations for businesses considering building their own drone programs.
One of the main benefits of having an in-house drone program is increased flexibility. With your own drones, you'll be able to quickly and easily deploy them for photography missions, without having to rely on outside services. This can be particularly helpful if you need to rapidly respond to customer requests or make last-minute changes to your plans. Additionally, having your own drones gives you the ability to customize your services to better meet your customers' needs.
However, there are also some challenges that come with building an in-house drone program.
One of the biggest challenges is finding qualified pilots. While there are many passionate hobbyists out there, it can be difficult to find pilots with the experience and training needed to safely and effectively operate drones for commercial
You'll need to choose the right type of drone for your needs. There are many different models on the market, so it's important to do some research to find the one that's best for you.
You will need to train your team on how to operate the drone safely and effectively.
You will need to put together a process for storing and managing the photos you take.
If you're willing to put in the effort, an in-house drone program can be a great way to high-quality real estate photos without breaking the bank.
Hire A Professional
If you're thinking of hiring a drone professional to take photos or videos of your property, there are a few things you should keep in mind.
make sure that the drone operator is insured and licensed.
ask to see examples of their work to get an idea of their style and skill level.
be sure to discuss your specific needs and expectations so that they can tailor their services to your needs.
agree on a price ahead of time so that there are no surprises later on.
make sure that the photographer is experienced and has a good portfolio.
discuss your vision for the project and make sure that the photographer is on board.
With a little bit of planning, you can be sure to get stunning aerial footage of your property that will impress potential buyers.
Picking The Right Drone For You
You'll need to choose the right drone for the job. There are a few things you should keep in mind when choosing a drone for real estate photography. Here are some practical tips when picking a drone
consider the camera, you'll want a drone with a high-quality camera that can take clear photos and videos.
think about the flight time. Real estate drone photography often requires long flights, so you'll want a drone that can stay in the air for at least 30 minutes.
make sure to choose a drone that is easy to fly and comes with features like GPS stabilization and automatic return home.
Lastly, safety is always a concern when flying drones, so be sure to choose a model with features like collision avoidance and auto-landing.
consider the price. Drones can be quite expensive, so make sure to set a budget before you start shopping.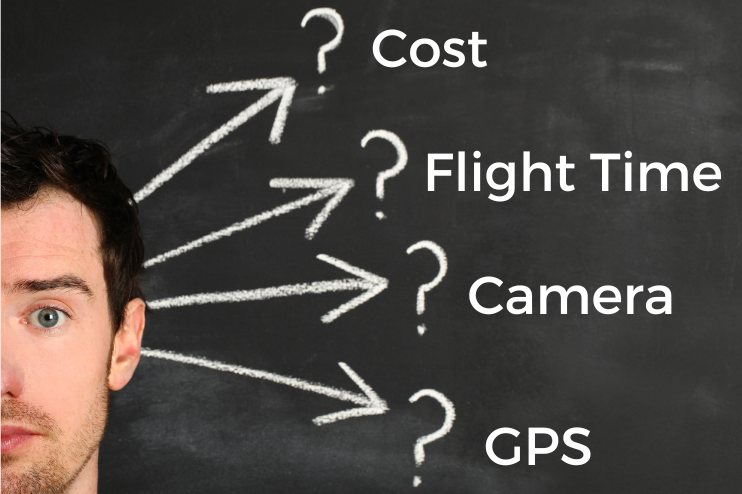 If you only plan to fly for fun then you do not need a license, BUT beware the FAA has a very liberal definition on "money" as pretty much anything of value.
If you take some drone pictures for your local doughnut shop and they give you a box of donuts in appreciation, as far FAA is concerned your a commercial drone pilot. It's not hard to get a license and the stuff I learned was kind of cool (even if most of it's unnecessary to fly drones). 
With so many options on the market, it can be tough to know where to start. But by keeping these factors in mind, you'll be able to find the perfect drone for real estate photography.
What Software Do You Need?
Photo Editing Software
Real estate photography post-production is the process of editing and enhancing photos of a property to make it look its best before listing it for sale. This can involve anything from basic color correction and brightness adjustments to more advanced Photoshop techniques.
While some real estate agents choose to do their own post-production, others outsource it to professional photographers or editors. In either case, the goal is to create attractive, eye-catching photos that will make potential buyers want to learn more about the property.
Although it requires a bit more time and effort, Real estate drone photography post-production can be well worth the investment, as it can help you sell your listings faster and for higher prices.
Video Editing Software
Real Estate drone videos generally requires a lot of editing in order to be effective.
Post production companies can help to add music, graphics, and transitions to videos, and they can also help to edit the footage to make it look its best
it is important to remember that Real Estate drone photography generally requires a lot of editing and post-production in order
While some people may think that post production is not necessary, it actually very necessary in order to produce high quality content.
Virtual Walkthrough Editing Software
There are a few different ways to capture 360-degree panoramas, but one of the most popular methods is to use a drone equipped with a camera. By flying the drone around the property and taking multiple photos, it is possible to stitch together to create a 360-degree interactive virtual tour or the property.
A virtual interactive walkthrough is an immersive, three-dimensional tour of a property that can be experienced online. Using cutting-edge drone technology, real estate drone photography captures a property from every angle, allowing potential buyers to explore the home from the comfort of their own computer. The resulting tour is realistic and engaging, giving viewers a true sense of the property's size, layout, and features.
As the real estate market continues to evolve, virtual interactive walkthroughs are quickly becoming one of the most popular tools for buying and selling homes.
What Training Do You Need?
Pilot License
Before you can start flying your drone for business purposes, you'll need to obtain a commercial drone pilot license. The process involves passing an aeronautical knowledge test at an FAA-approved testing center.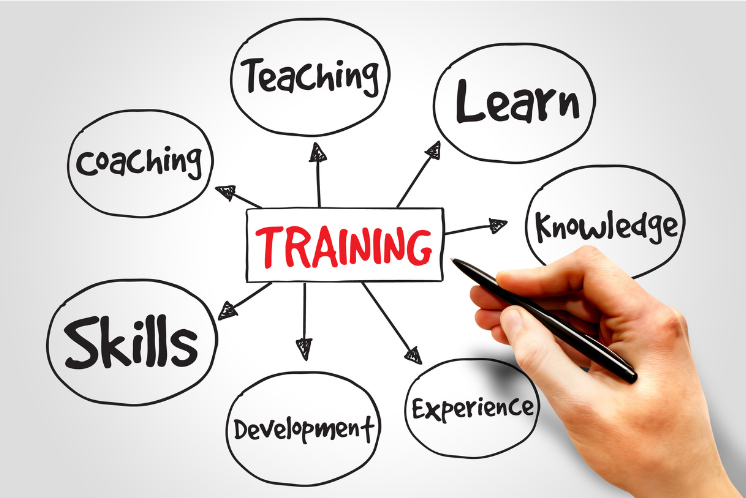 The test covers topics such as airspace classification, weather impacts on drone flight, and emergency procedures. Once you've passed the test, you'll be issued a certificate that is valid for two years. After that, you'll need to renew your certification every two years by completing an online training course.With a Part 107 license in hand, you'll be able to legally fly your drone for business purposes. So, if you're looking to get into real estate drone photography, start by getting your license.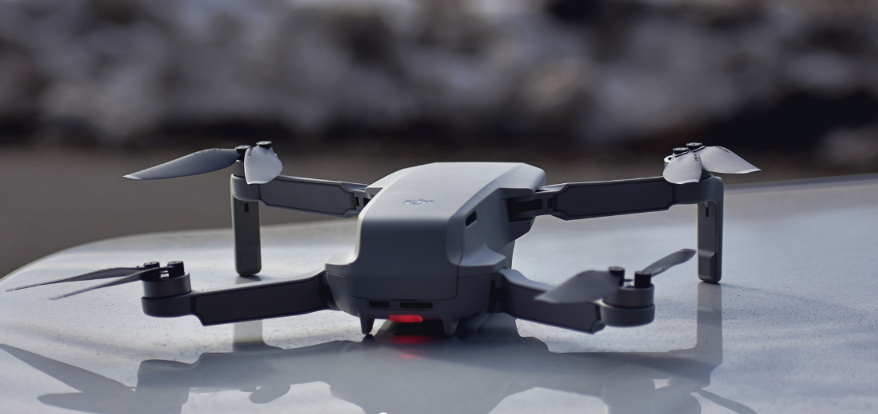 Flight Training
In addition to your drone pilot license, it's important to learn how to operate a drone safely before taking to the skies. We recommend obtaining a few hours of flight training from a certified instructor. The training will cover basic flight maneuvers as well as how to operate the camera and avoid obstacles.
Photography Training
There are a few ways to get photography training. You can take online courses, attend workshops, or even find a mentor who can teach you the ropes.
If you're interested in real estate drone photography, for example, you can find several online courses that will teach you the basics of flying a drone and taking photos.
You can also find mentors who are willing to train you in exchange for some of your photos.
And, of course, attending workshops is always a great way to learn from professionals and get some hands-on experience.
Whichever route you choose, make sure you do your research so that you can find the best photography training for your needs.
How Much Will It Cost?
The Drone
Basic drones start at around $500, but You can expect to pay anywhere from $500 to $1000 for a good quality drone. If you're serious about getting into real estate photography, then it's definitely worth the investment.
DJI is the world's largest drone manufacturer. DJI drones are popular among both commercial and consumer users due to their user-friendly design and advanced features. Real estate drone photography is one popular use for DJI drones. Specifications:
Flight time – 46 minutes
Flight range – 30 km
Weight – 895 g
Battery size – 5000 mAh
Camera – 4/3 CMOS, Effective pixels: 20 MP, 5.1K
Maximum speed – 68 kmph
Here are some other recommendations
Parrot drones are easy to use and offer a high quality of photos and videos. Parrot drones are a great option for anyone looking to get into real estate drone photography.
Specifications:
Flight time – 32 min
Flight range – 22.5 km
Weight – 898 g
Battery size – 6800 mAh
Camera – 1/2'' 48MP CMOS | 4K UHD
Maximum speed – 34 mph
The Software
For post-production we recommend Adobe products (1) Lightroom for photo editing and (2) Premier pro for video editing
You can do it on the cheap using free software on Windows or MAC (iMovie), but I believe if you're a professional then you should be using professional tools.
I can also recommend Canva for editing videos and creating presentations. Canva is quite simply awesome and has a great price point, but there's no ability to color grade your photos or do advanced video editing. For me, Canva makes a great compliment to the Adobe products.
The Training
Drone training courses typically start at $200, and the process usually takes about two days. You can expect to spend $500 to $1,500 for a drone Real Estate Photography Certification BUT you do not need certification to start taking drone photos.
A much less expensive option is to avail yourself of online course providers like Udemy or Coursera. A typical course will run you between $10 to $20 which represents a very budget friendly alternative.
In the mid-range are drone businesses that offer online courses. Two organizations can recommend are
(1) Drone Launch Academy
(2) Drone U
These guys have been around for a while, and they are very knowledgeable. Plus, their courses generally come with student discounts for popular software you may use. In my case the Drone Launch Academy discount on Adobe products actually paid for the course.
Hidden Costs
There are some hidden costs associated with owning a drone that you should be aware of before making the purchase.
For starters, you'll need to purchase extra batteries for your drone and definitely propeller guards if you plan to fly indoors
Finally, you'll need to have insurance in case your drone causes damage to property or injures someone.
The Part 107 FAA drone license exam costs $175.
I recommend getting the drone replacement coverage. It's not a question of if, but when you crash your drone (hopefully not over water). It's good to know if the drone is not recoverable you have a backstop.
Drone photography is a great way to market your product or service. If you're not sure where to start with drones, we can help. Our team has the experience and knowledge necessary to get you started with this exciting technology.
If you have questions about using drone for your business, check out my blog "First 8 Things I Did To Start My Business" for information on how to get started.
So, what are you waiting for? Give us a call today or head over to our website for more information on our services. We can't wait to work with you!