Flying a drone in restricted airspace requires special a waiver from the Federal Aviation Administration (FAA). You must have a Part 107 Remote Pilot Certificate and provide detailed mission documentation as part of the authorization request.
To fly a drone in restricted airspace you need to know the specific waiver application process. Waivers for special-use airspace are submitted through the Airspace Access Program. LAANC-controlled airspace waivers are submitted through the FAA Drone Zone website. You may also need to unlock your drone geofence restriction.
Obtaining authorization to fly a drone in restricted airspace is not easy. But you can do it. Follow the instructions in this article and you will have an excellent chance of getting approved.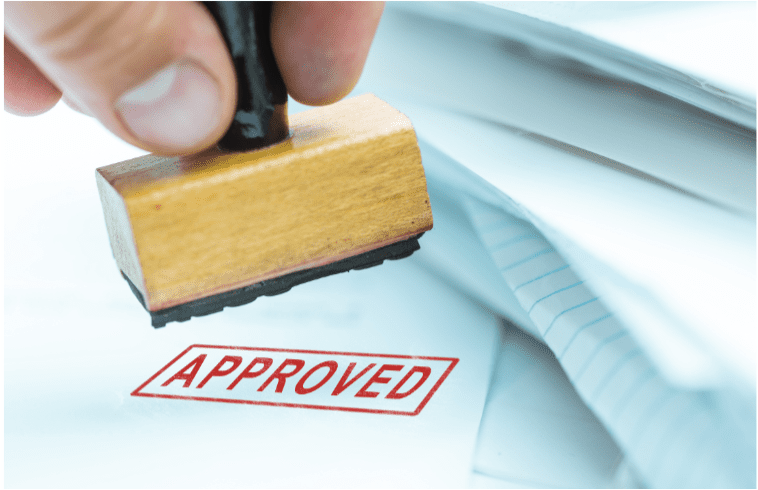 Types Of Special Use Airspace
Disney Theme Parks
Disney Theme Park waivers permit drone flight for areas around Disneyland and Disney World Theme Parks. Applicants must provide a letter of verification from the relevant park verifying that the waiver is for an operational function of the venue.
Major Sporting Events
Sporting event waivers permit flight operations within the temporary flight-restricted (TFR) airspace established for National Football League, Major League Baseball, NCAA events, NASCAR Series, and INDY Race events. These waivers are typically needed for stadiums of 30,000 or more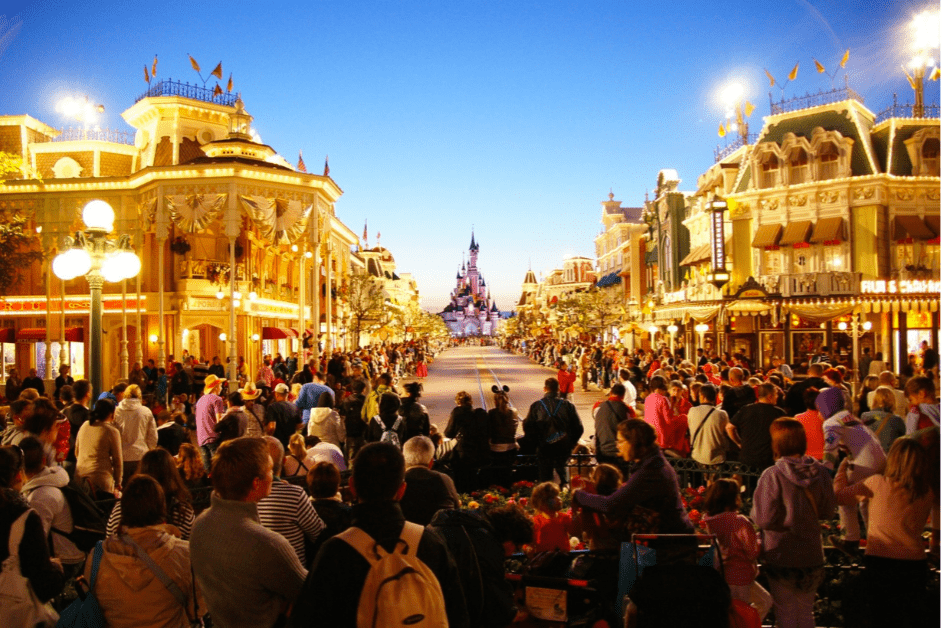 Special Events
Special event waivers permit authorized flight operations within the temporary flight-restricted airspace established for special events that take place outside of Washington, D.C.
Flight Restricted Zone For Washington, D.C.
These waivers permit operations in or around Washington DC. You will submit an online waiver application. In addition, you submit documentation specifying the purpose and scope of the work. This waiver has a special process that we will walk through. Be aware, the submission process is challenging.
How To Fly A Drone in Special-Use Airspace
Where To Apply For Waiver
Waiver requests may be submitted online via the FAA/TSA Airspace Program. General applications must be submitted at least five business days before the flight. Definitely allow more than 5 days, because you may need to resubmit if you get rejected.
Application for flights near Washington DC must be submitted 15 days before the flight. For more details on FAA flight restrictions see our article "Drone No-Fly Zones: A Complete Review".
Required Documentation
I'll review the process we use for flights in Washington DC. The basic process will be similar for other areas. Your application consists of two parts: an online application to the Airspace Access Program (AAP) website, and a set of documents you upload to the FAA website.
Here's a list of the documents, you must submit these documents exactly as requested.
A letter of application. This letter is an official request for waiver and it must provide a compelling reason why you have to use a drone for this job versus manned aircraft.
This is usually pretty easy because flying a plane to take a few pictures obviously does not make any sense. Important, it needs to be on company letterhead. Either your company or the sponsoring company.
Client letter. This is just a letter from your customer describing the job. This is your statement of work (SOW). It should include why this is important, the scope of the work, and how long it will take.
If you're flying within 7 nautical miles of Washington National Airport then this letter needs to be from a federal, state, or local government agency. You need to have a government sponsor within this highly restricted area.
Maps (For Washington DC). You will need 2 maps: (1) a large-scale map and (2) a small-scale map.
The large-scale map shows a detailed view of where your drone will fly. Exact locations for takeoff and land, plus alternate emergency locations. Clearly outline the boundaries of your flight area and show distances. Indicate the boundary with a circle and radius or a square showing the length of each side. Also, provide pictures that verify you can maintain a line of site with the drone at all times.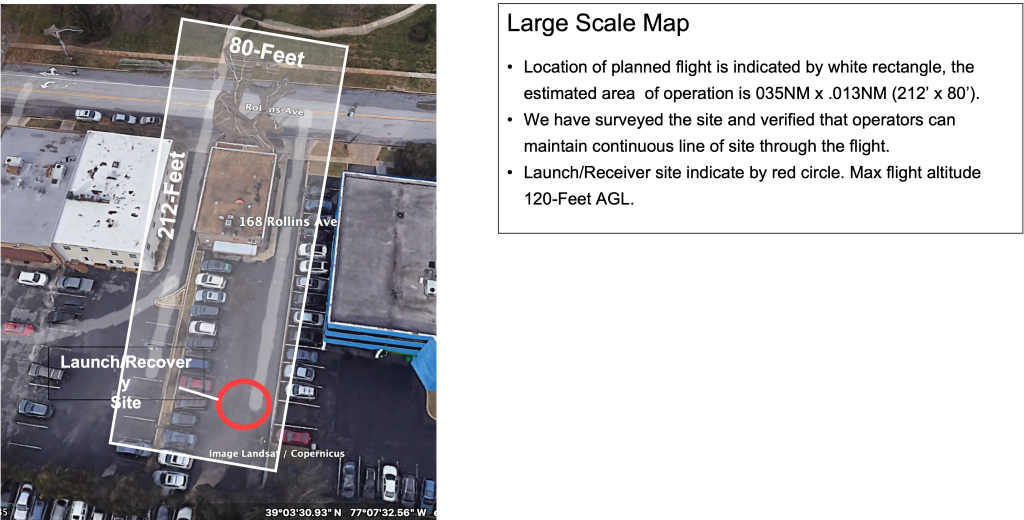 The small scale map shows your flight area within the larger Washington DC area restricted zone. The goal here is to verify that you are more than 7 nautical miles from the airport VOR (located at 38°51'34.2″N 77°02'11.4″W in DC ).
You'll have to compute the distance to the airport VOR using latitude and longitude obtained from the FAA facility map. Using other online maps will generally not give accurate distances and your application will get rejected.
All distances must be in nautical miles and all directions must be in degrees true units. This may seem like a small thing, but not doing it will definitely get your application rejected
Drone information. You'll need to provide the make and model, registration number, aircraft and controller serial numbers, and photographs of your drone that show the registration information clearly displayed on your drone.
Crewmember information. You need at least two crew members: a pilot and an on-site communicator (OSC). You'll need to provide detailed information on each of these people.
The OSC is there to communicate with the FAA in the event of problems or if the FAA has any questions. The OSC cannot take part in flight operations, they're only allowed to provide real-time communications with the FAA.
You'll have to provide a registration number of the pilot to verify that they are part 107 certified.
Remote pilot license. We always provide a photograph of our part 107 license. This is not required but the reviewers have told us that is helpful.
Law enforcement coordination (For Washington DC). If you fly within seven nautical miles of Washington DC airport you will need a law enforcement officer escort during your flight. In DC this is just the Metropolitan Police Department. Be warned this will require many phone calls because, let's face it, the police have more important things to do.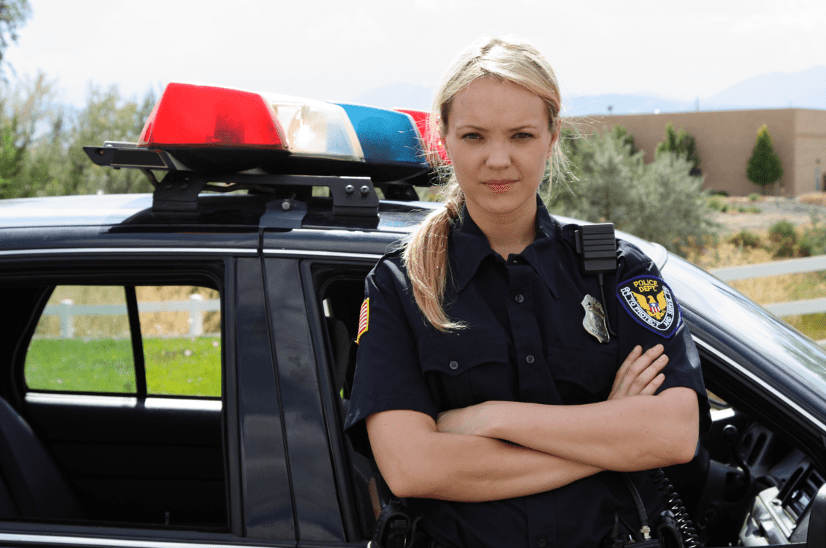 What You Can Expect
The reviewers will generally respond within 48 hours. If a reviewer rejects your application will get an explanation. Make your corrections and resubmit. Once you're approved, the FAA assigns a two-hour window for your flight.
After Your Authorized To Fly
So you thought once you got authorized you could just show up and do the job. Well, think again.
The day before your flight. You must send an email notification no later than 4 PM EST to verify that you still intend to fly. If you're flying within seven nautical miles of Washington airport you will also include the name, badge, and phone number of your law-enforcement escort.
On the day of your flight. Your OSC must contact the FAA Watch Officer 15 minutes prior to your flight. Everyone must be present during this call. You'll give them your waiver number and some flight information, then they will give you thumbs up to fly.
How To Fly A Drone In Controlled Airspace
There are two categories of authorization: operational and airspace.
Operational Authorization
An operational authorization (also called a waiver) is for part 107 certified pilots who wish to fly their drone outside the parameters of part 107 regulations. This includes:
Flying your drone from a moving vehicle
Flying your drone at night without lights
Flying your drone beyond the visual line of sight.
Operation of multiple small drones
Flying your drone faster than 100 mph (I don't know you would ever do this)
Flying your drone above 400 feet AGL
Flying with less than three statute miles of visibility.
Flying within 500 feet vertically or 2000 feet horizontally of clouds
Airspace Authorization
An airspace authorization (also called a waiver) is for part 107 certified pilots who wish to access:
Areas that are in controlled airspace not covered by LAANC as shown by the red grids on the UAS Facility Maps
A "zero" grid area above airport property as shown on UAS Facility Maps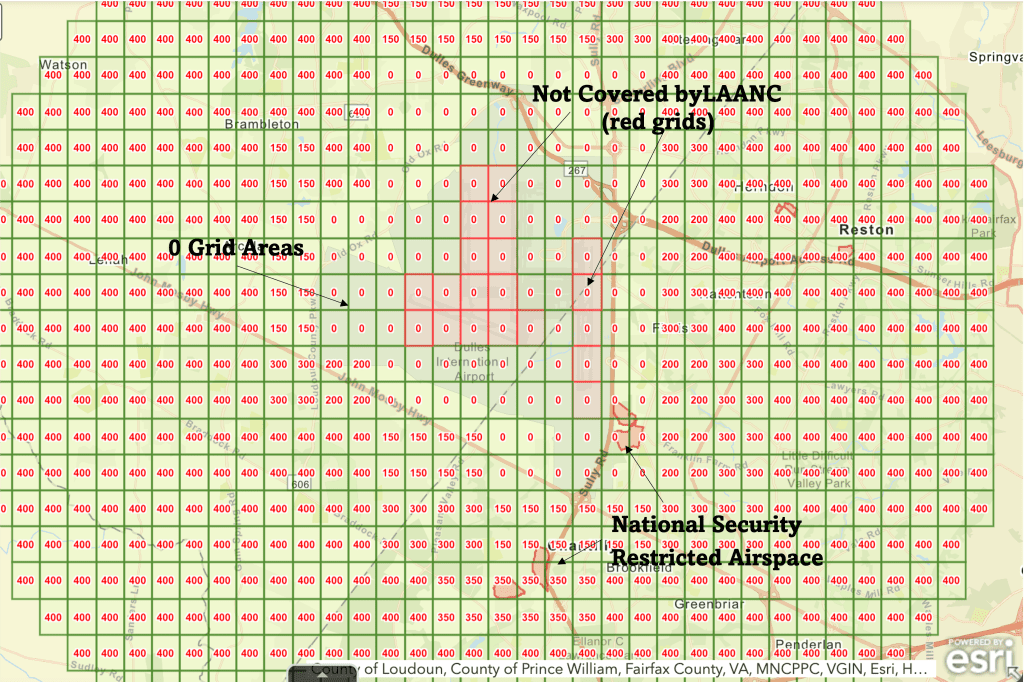 How To Apply For The Waiver
You apply for both operational and airspace waivers on the FAA Drone Zone website.
Scroll down and click "Create Part 107 Waiver/Authorization". Choose "Operational" or "Airspace".
For Operational Waivers. Complete sections A – D to provide CONOP's information. Click the "Relevant Waivers" section to see a list of required waivers.
Follow the prompts and you will be asked to provide Waiver Safety explanations for each required waiver. This is very important. You will need to provide a detailed operational risk and mitigation analysis.
We could spend an entire article on risk analysis and Waiver Safety Explanation Guidelines (WSEG). Fortunately, the FAA provides general WSEG guidance and also provides sample justifications for each type of waiver on their website.
Next, you enter which of your registered drones will fly the mission.
Finally, you'll review and submit the waiver. You will also be able to attach additional documents. These aren't required but if you have safety or mission protocol documents, reviewers may look favorably on them.
For Airspace Waivers. The process is much simpler. Enter the mission details and submit your application. This does not require any mission risk analysis.
The FAA will assign a reference number for your waiver. Submissions are reviewed within 90 days. We always received a response before that time.
How To Obtain LAANC Authorization
LAANC provides near real-time authorization for operations in controlled airspace, under 400 feet or below the designated altitude ceiling on the UAS Facility Map. You can do this on your phone with the AirFly app.
How To Obtain DJI Geofence Authorization
Geofencing is a drone safety measure that uses GPS or radio frequency technology to create virtual boundaries. Geofencing prevents unintended drone flights in restricted or prohibited areas. For details on geofencing see our article "Geofencing For Drones: The Complete Guide".
We'll walk through the DJI geofence custom and zone unlock processes. The custom unlock and zone unlock processes are very similar and outlined in the videos. Alternatively, you could follow my instructions below.
How To Do A Custom Unlock
Log into your DJI account at the DJI's Unlock site.
Select Unlocking Requests and enter the requested information. The first time it took me a while to figure out how to find the flight controller serial number (it is not the drone serial number). I linked to a short video that may save you some time.
Select the area you want to unlock and mission details (flight radius, altitude). Then confirm the information is accurate.
DJI should respond to your submission within 1-hour via email. You can also check the status of your submission on the website.
When you start your mission, you'll need to upload the authorization key to unlock the drone. After that, you should be good to go. Note, you will need an internet connection to complete this process.
Contact DJI support at flysafe@dji.com if you have any problems.
How To Do A Zone Unlock From Home
Log into your DJI account.
Follow the same initial procedures as above but select "Self Unlock" versus "Custom Unlock". Enter your mission information. The mission date is important because the unlock is valid for 72 hours.
Agree to the terms and conditions, then verify your identity on your DJI account. You should see a popup indicating 'Verification Complete'.
After getting the unlock approval you'll need to upload the flight license to your drone via the DJI GO app in General Settings under Unlock List. This will require an internet connection.
Perform Self Unlock On Site
This is much easier to do using the DJI GO app at the mission site. I recommend you use this method.
Open the DJI Go app. Click "Yes" in response to the flight restriction warning. Verify your identity on your DJI account and select "Confirm" for self-unlock. You will need to be logged in to your DJI account.
Restricted Airspace Overview
There are several types of restricted airspace. It's important to have a working knowledge of what they are.
Special Use Airspace
Special-use airspace (SUA) usually defines areas that are restricted due to national security, military training, special activities, or hazardous conditions. These zones are usually marked with a "D" symbol on FAA airspace maps and drone pilots can find more detailed information about SUA on the Federal Aviation Administration (FAA) website.
Violators of SUA may face fines or other penalties".
Controlled Airspace
Controlled airspace includes classes A, B, C, D, and E airspace. Each classification of airspace has specific restrictions associated with it. In general, drone operations are not allowed in controlled airspace without explicit permission from air traffic control (ATC).
The drone operator easily can obtain flight authorization through the Low Altitude Authorization and Notification Capability (LAANC). LAANC provides:
Access to controlled airspace at or below 400 feet
Awareness of flight altitude restrictions
Air Traffic Control insight into all drones operation
Temporary Flight Restricted Airspace
The Notice to Airmen (NOTAM) announces event-based Temporary Flight Restrictions (TFRs). Some examples of TFR restrictions include weather hazards, special events, and national security.
Drone operators should check with their local aviation authority for any TFRs that may be in place. The text of the actual TFR contains the area, altitude, and timeframe of the restrictions. the FAA website maintains a list of active TFRs and a map of TFRs.
Geofenced Airspace
Geofencing is a drone technology that uses GPS or radio signals to create an invisible boundary around designated areas. The drone control software sets different levels of flight restrictions based on location. In some areas, the software will either not allow the drone to take off or it will force it to land.
The area around Washington DC is an example of a geofenced zone Geofences enforce government airspace restrictions. However, the drone vendors imposed and control it.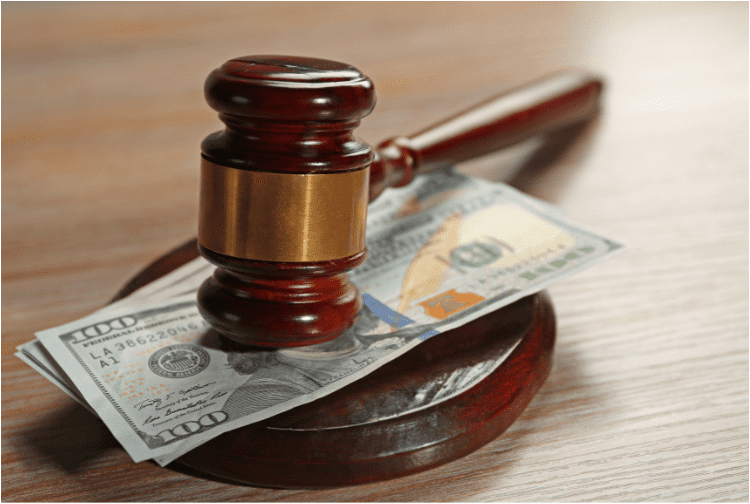 Penalties for Flying A Drone In Restricted Airspace
It is illegal to fly a drone in certain areas, and drone operators who violate these regulations can face severe penalties. The FAA can impose civil penalties ranging from $1,000 to over $20,000 for drone operations that violate airspace restrictions. Also, drone operators may face criminal charges for operating a drone in restricted airspace.
For drone pilots, a thorough understanding of restricted airspace is essential to prevent any dangerous and/or illegal drone operations. With drone technology constantly evolving more drones are taking to the sky every day. Because of this, it is important for drone operators to know their rights and keep airspace safe for everyone. Ignorance of the restrictions can result in significant consequences
Familiarizing oneself with knowledge of local drone laws, regulations, and guidelines. This will ensure you fly your drone responsibly.
Lightwave Aerial is a professional drone service company based in Northern Virginia. Our pilots are all FAA Part-107 certified. We offer a full range of aerial photo/video production services, aerial mapping, and aerial inspection.
At Lightwave Aerial, we are dedicated to providing professional drone services that help our clients achieve their goals. Contact us today to find out more about how we can help you with your next construction project!