The Air 2S is still a great choice, even when compared to the newest DJI drone models. The return on investment (ROI) should drive the decision of which drone to buy for your business.
The DJI Air 2S still provides the best return on investment (ROI) when compared to Mini 3 Pro, Mavic 3, and Phantom 4 Pro drones. The Air 2S supports the widest range of use cases at a very reasonable price.
We'll walk through a basic ROI analysis to show you how we make drone purchase decisions. You'll see why the Air 2S is still our favorite.
Air 2S The Best Drone For Your Business
The DJI Air 2S drone is the best choice for getting your aerial business up and running.
The DJI Air 2S drone has a 4K/5.4k video resolution, a 1-inch CMOS image sensor with 20MP resolution, up to 31 minutes of flight time, and a load of intelligent flight features. With this drone, you can provide a wide range of services.
Aerial photography & Videography
Infrastructure Inspection
Mapping
3D Model Creation
Interactive 360-deg Walkthrough
We chose the Air 2S based on return on investment (ROI) for our business. This drone's closest price point competitors are the Mavic 3, Mini 3 Pro, and Phantom 4 Pro. Capitol expenditure (CAPEX) for a drone is a very important consideration when starting your business. See our related article "How To Start A Drone Business (Part-1)"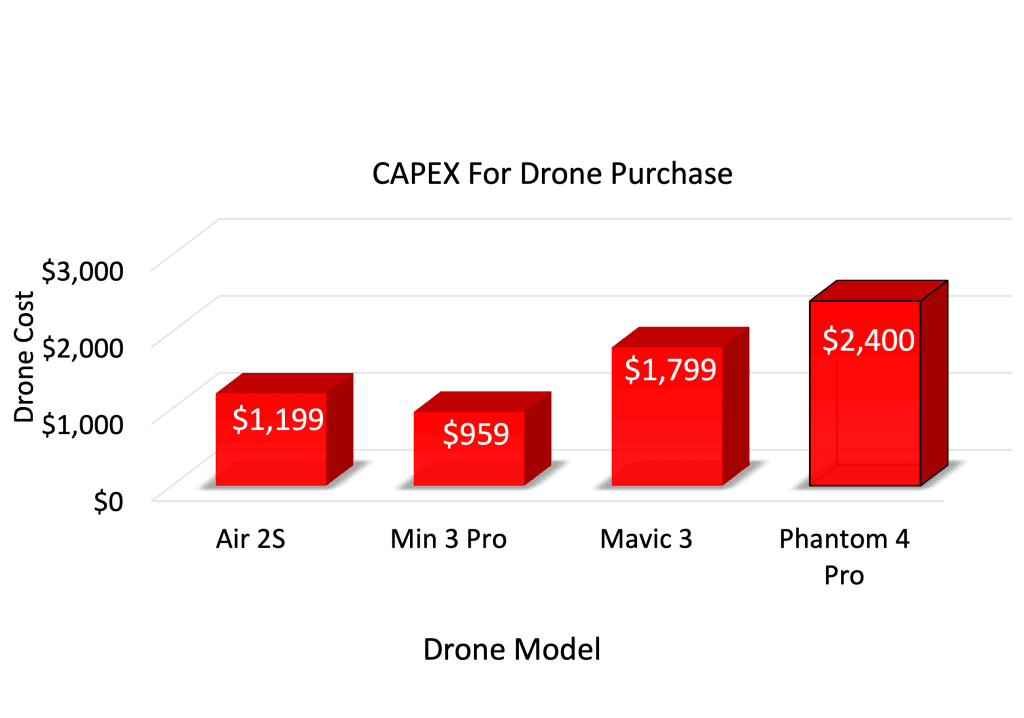 Air 2S Return On Investment (ROI) Comparison
| | | | | |
| --- | --- | --- | --- | --- |
| | Air 2S | Mini 3 Pro | Mavic 3 | Phantom 4Pro |
| Photo | Yes | Yes | Yes | Some |
| Video | Yes | Yes | yes | Some |
| Inspection | Yes | Some | Some | Yes |
| Mapping | Some | No | No | Yes |
| 3D Model | Some | Some | Some | Yes |
Yes: Recommended for all jobs Some: Recommended for some jobs
No: Not Recommended
This section explains how we decided on the table entries.
The 1" sensor, 20 MP, and 4K camera make the Air 2S an excellent option for photo and video jobs. The small size and weight are good for indoor photography which is a significant portion of these jobs. The Air 2S has 4X digital zoom and is also compatible with 3rd party auto-flight software. See our article "Can You Fly DJI Air 2S Drone Indoors"
One drawback, the Air 2S has an electronic shutter as opposed to a mechanical shutter. So Air 2S is only appropriate for some mapping and 3-D modeling jobs. For more details on drone mapping see our article "Aerial Mapping With Drone: A Business Perspective".
The Mini 3 Pro has a smaller sensor but the camera is still excellent. The very small footprint makes it a great option for indoor photography. However because it is a new model, the Mini 3 Pro is not compatible with third-party auto-flight software.
This means all flights must be done manually so we do not recommend it for mapping. Also, it's only recommended for some inspection and 3-D modeling jobs.
It typically takes about a year for new drone models to be compatible with flight planning software. So this ROI analysis may change in 2024.
Mavic three has a 4/3-inch camera for much better imaging. It's a bigger drone, but still small enough for indoor photography. However, like the Mini 3 Pro, it is a new model and therefore not compatible with third-party flight planning software.
Again, this ROI analysis may change in 2024 when the Mavic 3 becomes compatible with 3rd party auto-fight software.
The Phantom 4 Pro (P4P) is significantly larger and heavier than the Air 2S, so we do not use it for indoor jobs. Therefore the P4P has limited application for photography and video. See our article "Can You Fly Phantom 4 Pro Indoors?"
However, the P4P has a mechanical shutter that provides the best resolution for aerial mapping and 3-D modeling. It is our preferred drone for these jobs.
In comparing these drones, we considered 5 job categories from the table above: photography, videography, mapping, inspection, and 3D Modeling.
We did an ROI analysis based on 10 jobs in each category. ROI is the ratio of drone price to the revenue it can generate. Each drone can either do (1) all 10 jobs, (2) 5 out of 10 jobs, or (3) no jobs in each category.
If a drone can do a more jobs then it can generate more money.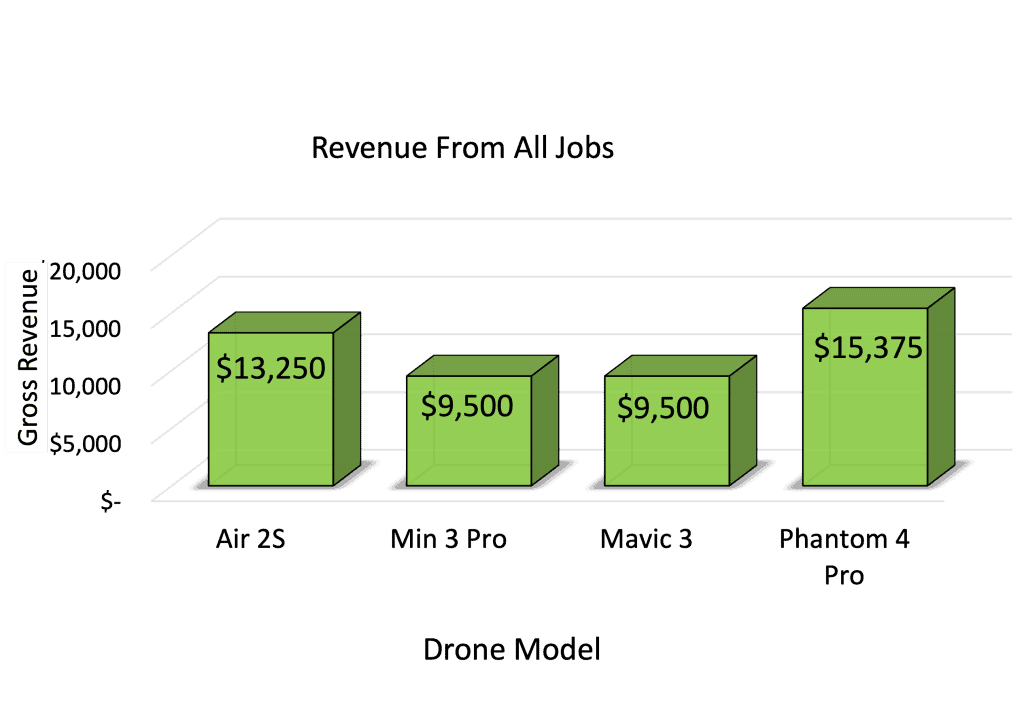 Comping ROI below, the Air 2S comes out on top. But again this may change in 2024 when the Mini 3 Pro and Mavic 3 are compatible with 3rd party auto-flight applications. For more details on using ROI, see our article "How To Build A Profitable Drone Business".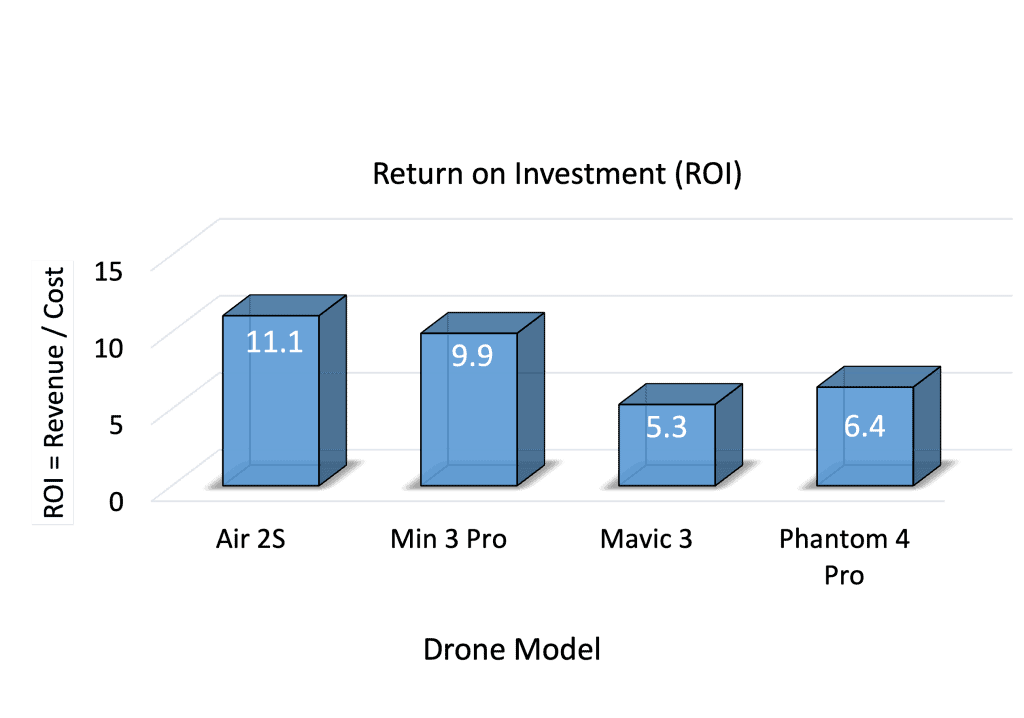 This is a fairly simple analysis, you can use it as a starting point to make decisions that are right for your organization.
Our Favorite Air 2S Attributes
We've used the Air 2S since 2021 and we absolutely love it. Here are some of my personal favorite things about the Air 2S.
Quick Shots
With one push of a button, you can have your DJI Air 2S launch into eight different pre-programmed flight patterns. The ones I use most are Boomerang, Rocket, and Dronee.
4X Zoom
The Air 2S camera has fully integrated 4x digital zoom without sacrificing image quality. This has been great for inspection jobs.
Auto-Exposure Bracketing
Auto exposure bracketing captures three separate images at different exposures with just one shutter click. You combine these three images in photo editing software to get the best exposure. This is great for those of us who are not professional photographers, you can always get the best picture.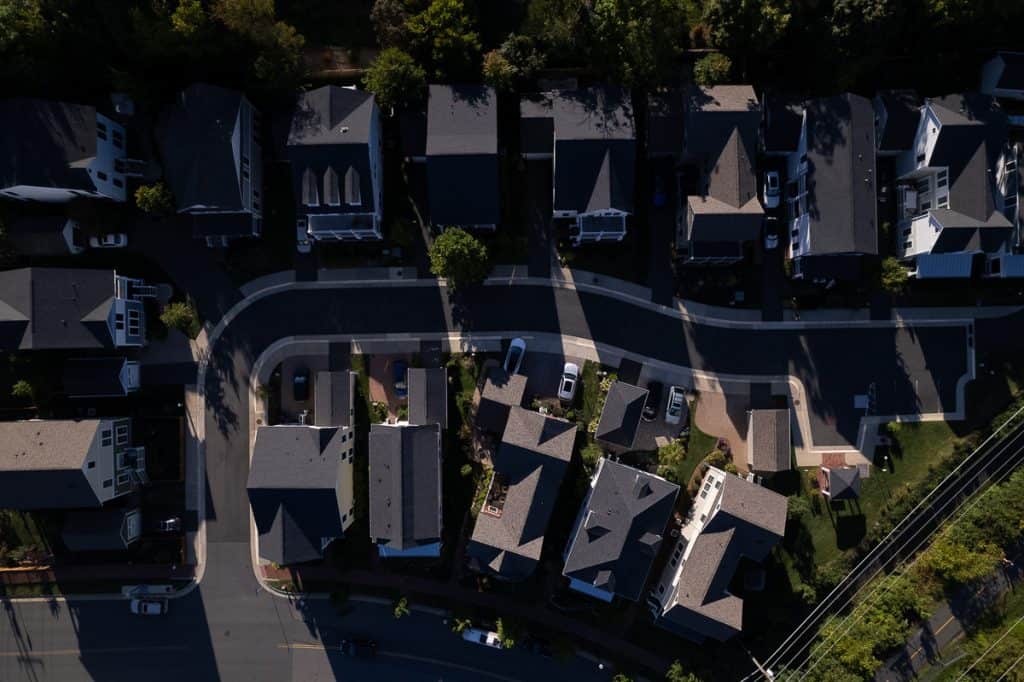 Ruggedness
The first time I took my Air 2S out for a flight, my son ran over it with his scooter and cracked the frame. I super-glued it back together and it's worked fine ever since. This is an incredibly tough drone.
DJI Air 2S For Photography & Videography
For our business, we want a smaller drone that can do both indoor and outdoor jobs. If you only offer photography and video services, then the Mini 3 Pro might be your best option, with the Air 2S a close 2nd.
DJI Air 2S For Mapping
Auto-Flight Control
Flight control applications like Dronelink, Litchi, Drone Deploy, or Map Pilot are used to design the drone mission. They control image overlap for orthomosaic maps and they control the gimbal angle for 3D models.
These applications require a software development kit (SDK) to build the control functions. Generally, it takes DJI about 1 year after introducing a new drone model to provide the SDK. So you can expect SDKs for Mini-3 and Mavic-3 in mid-2024.
Because of this, the Air 2S and Phantom 4 Pro are your best budget-friendly options for aerial drone mapping. We recommend using the Phantom 4 Pro, see our article"Phantom 4 Pro Drone For Aerial Mapping"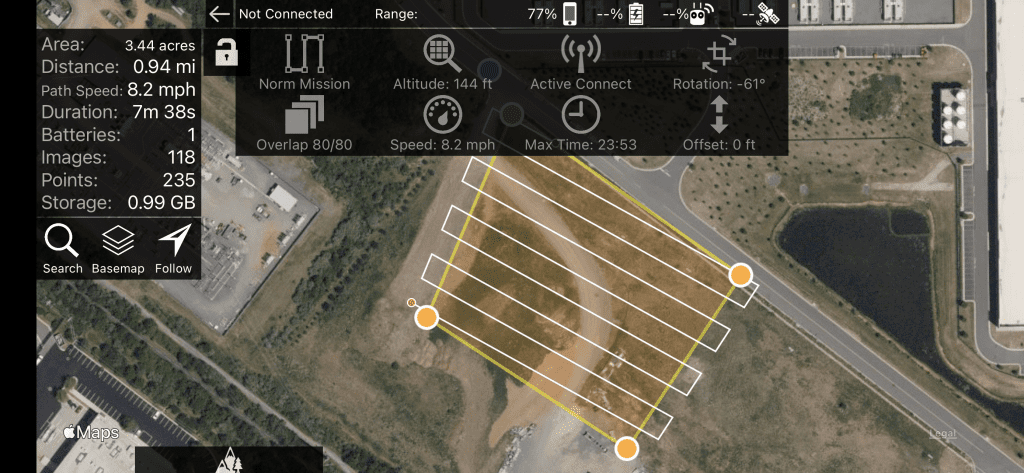 Electronic Shutter
The Air 2S electronic shutter is not the best for mapping. The mechanical shutter in the Phantom 4 Pro is a much better option. However, the Air 2S can still be used for jobs that do not require high resolution.
DJI Air 2S For 3D Modelling
We recommend you use auto-flight software for 3D modeling jobs. It can be done manually, but it requires technical knowledge and advanced drone piloting skills. So the Air 2S and Phantom 4 are your best low-cost options for now. We generally use the Phantom 4 pro because of the mechanical shutter.
DJI Air 2S Accessories
The DJI fly more combo includes 3 DJI Intelligent flight batteries, an ND filter set, a 3-battery charging dock, an extra set of propellers, and several other useful accessories. This is what we bought and we are very happy with it. We ran the numbers and it's slightly less expensive than buying the parts separately.
The FAA Part 107.29 regulation indicates
No person may operate a small unmanned aircraft system during periods of civil twilight unless the small unmanned aircraft has lighted anti-collision lighting visible for at least 3 statute miles that has a flash rate sufficient to avoid a collision.
If you plan to fly at night, you will need to get these.
Propeller guards, also known as, propeller cages, protect your drone when flying in tight space. If your job is inside a large warehouse then it's probably not too important.
But if you're doing a real estate job in a small condo then you can expect to bump into something eventually. Propeller guards prevent property damage and keep your drone from crashing.
We keep a total of three batteries for all of our drones. We've never had to use all three, but we've come pretty close and were thankful that we had them. This is the great thing about the Air 2S Fly More Combo, it comes with three batteries.
This is nice to have if you have multiple batteries. Could I get by without my 3-battery charger? Sure. Would I want to? No.
Wetsuit
A wetsuit protects your drone from rain. There are several companies that sell them: Phantom Rain and Sideline Power. I recommend shopping around to find the best price. For more information about flying in the rain see our article "Can You Fly A DJI Air 2S In The Rain".
Insta360 Sphere
This is a relatively new product and as of now only seems to be available for the Air 2S. The attachment allows you to take 360° videos. This creates unique immersive imagery, which can open up a lot of new business opportunities.
It's a bit pricey $386, but a few good customers could more than pay for it. You can buy it at B&H or direct.
DJI Air 2S For Construction
We believe construction will have huge opportunities for the drone service business. The Air 2S can be used for all current construction drone products, but we typically use a combination of Air 2S and Phantom 4 Pro.
Current Construction Drone Products
Simple photos and video of the construction site. These are used to document and communicate progress to stakeholders.
360-degree interactive walkthrough. Detailed site survey for safety documentation and asset tracking.
Orthomosaic maps for 2D measurements and verify relative locations of items on the construction site.
3D digital surface maps for tracking relative earthwork changes and stockpile analysis.
Future Construction Drone Products
It's not clear how the Air 2S will be used for these future products. But these are the things we're planning for.
2D and 3D surface map integration with BIM software.
Artificial intelligence integrated with current products to automatically identify problems or to predict potential project issues.
Cloud computing integration to provide real-time automatic notification to stakeholders or automate drone service in response to pre-defined triggers.
Beyond visual line of sight (BVLOS) and 5G cellular drone control to coordinate multiple drone operations remotely.
DJI Air 2S For Inspection
Three big money makers: (1) cell tower inspection, (2) building inspection, and (3) utility inspection. The Air 2S supports all of these use cases.
Cell towers can either be flown manually or with intelligent flight patterns.
Building inspections have two categories: roofs and facades. For both, we use 3rd party auto-flight applications. This way we can get actionable maps or 3D models
Utility inspection work consists of power lines and power stations. The Air 2S isn't good for power lines because you'll need longer flight times. For power stations, we use the Air 2S to build detailed 360-degree interactive walkthroughs.
For more information on this opportunity see our article "3 Awesome Ideas For Your Drone Business"
DJI Air 2S For Real Estate
Real estate is the entry point for most small drone service businesses. For our business, the biggest revenue application is commercial real estate: shopping malls and corporate marketing programs.
Residential real estate has a larger customer base but the revenue per job is much lower.
The Air 2S is great for all real estate applications. We're finding that indoor video and indoor/outdoor 360-degree interactive walkthroughs can generate good revenue. Because these products can only be created with drones, it is easier to sell these services. For more details see our article, "Make Money In Real Estate With Drone Photography".
The DJI Air 2S is still a great drone and based on our ROI analysis it may be the best choice to start your drone business.
Lightwave Aerial is a professional drone service company based in Northern Virginia. Our pilots are all FAA Part-107 certified. We offer a full range of aerial photo/video production services, aerial mapping, and aerial inspection.
At Lightwave Aerial, we are dedicated to providing professional drone services that help our clients achieve their goals. Contact us today to find out more about how we can help you with your next construction project!